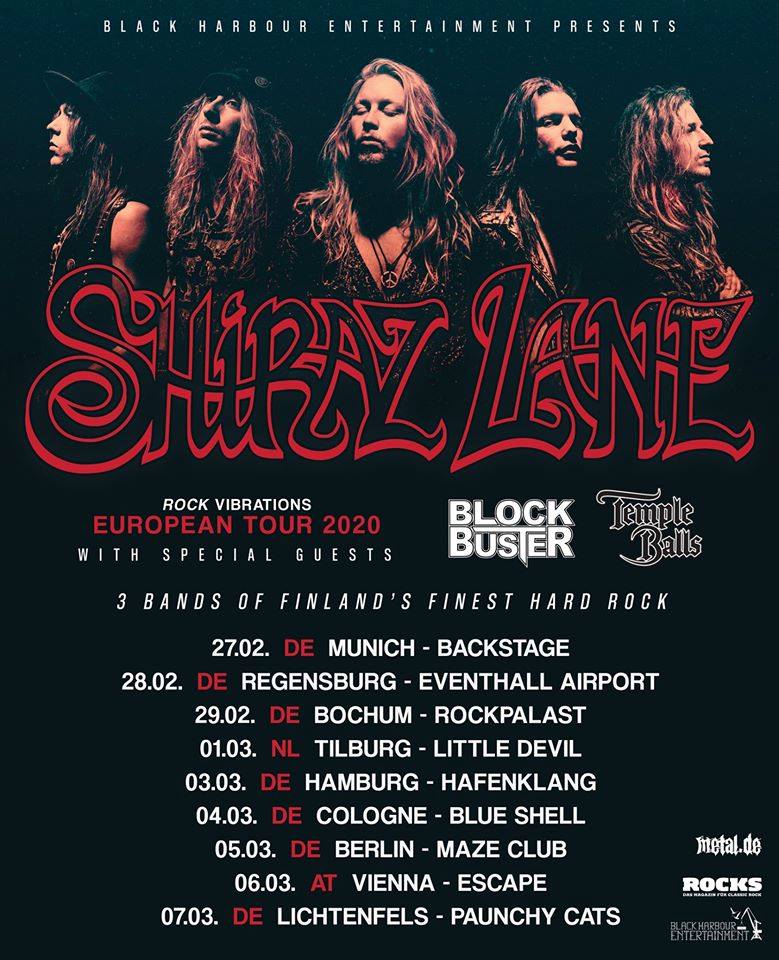 19u / hardrock / glam / presented by Black As Romance / € 8,50
(pre-sale) / € 10,- (door)

Een fijn avondje vette Finse hardrock!
"Shiraz Lane is thrilled to announce that we shall return to Central Europe in February/March 2020. It's time to step up the game since yours truly will be headlining the entertainment of the evening. The tour consists mostly of German dates, but we have managed to sneak a show in the beautiful city of Vienna, Austria & Tilburg, Netherlands to compete on which country takes the prize for the loudest audience and best beers. Just kidding… We hope to see all of you Rock N' Rollers out there to show your support, because together we will make this tour an unforgettable musical tornado! New songs, new show and a million volts of aural energy will be delivered. This tour will also feature our exceptional friends with anti-gravitational skills "Block Buster" & "Temple Balls" taking a leap of faith by joining us on this caravan blessed by the Gods of Rock N' Roll. Secure your tickets and join The Shiraz Lane Revolution!"
Shiraz Lane is a Hard Rocking group of five from Vantaa, Finland. Although originally germinated in 2011, the band genuinely blossomed in 2015 after the current desirable line-up was solidified. Shiraz Lane wreaks of creative variety, which resonates through their double-edged guitar sound (produced by lead guitarist Jani Laine and rhythm guitarist Miki Kalske), groovy-yet-solid ground pounding (Ana Willman drums & Joel Alex bass) and unmistakably high-soaring melodies chanted by lead singer Hannes Kett. Despite their youth (early twenties), they are already veterans of the underground circuit in their homeland and have developed a reputation for being uncompromising, loud, but most of all the genuine article. Although wearing inspiration and paying homage to their predecessors like Aerosmith and Guns N' Roses, the "Big Guns" of Scandinavia such as members from The 69 Eyes, Amorphis, Children Of Bodom, Lordi and Sonic Syndicate have all described them as being one of the most entertaining bands they have seen in the underground music scene, bringing a fresh breeze to the table in terms of both music and live performance.
Shiraz Lane's debut five track EP named "Be The Slave Or Be The Change" was released in the spring of 2015. It was extremely well received by both public and the press and the single "Mental Slavery" could even be described as an underground hit in the Rock scene. Following this mini-record the band has put out four EP supporting music videos, toured the biggest national summer festivals and played in Toronto (Canada) , Tokyo (Japan) & Wacken Open Air in Germany. In the Autumn of 2015 Shiraz Lane embarked on an extensive national tour supporting Santa Cruz, playing the biggest club venues in Finland. The hype culminated with a worldwide record deal with Frontiers Music Srl, which was signed and sealed in September. Although music is not a matter of competition, it might be suitable to list winning the Hard Rock Rising 2014 and Wacken Metal Battle 2015 competitions as past merits.
Their debut album For Crying Out Loud was released worldwide in April 2016, and it was a success story from the beginning, achieving for example 6/7 stars in Metal Hammer Germany and a lot of praise by the biggest Finnish music magazine Soundi!
The young rockers spent the whole Summer playing festivals and packed their gear for a 2 months long European tour with Lordi in Fall 2016, before heading to their 1st headliner tour in February 2017 in Spain.
Shiraz Lane released their second album Carnival Days in the begginning of 2018. Shiraz Lane continued on to play countless shows in Europe and Finland throughout the year 2018. In November & December of 2018, Shiraz Lane joined forces H.E.A.T for a month long European adventure. Since then Shiraz Lane has been busy working on new music and playing shows selectively during the summer.
In June 2019 Shiraz Lane announces that they have changed their record label to Ranka Kustannus which is operated by the legendary Riku Pääkkönen (the man behind the uprising of bands such as Nightwish and Children Of Bodom). New material is expected to be released by the end of the summer.
Temple Balls is an energetic hard rock band from Finland.
For the past couple of years Temple Balls has kept busy, both in the studio and on the stage. Opening for such bands like Queen, Deep Purple and Uriah Heep, the band has proven to be more than able to handle big stages as well. Whether it be a big festival or your local club's stage, the band will set your friggin' pants on fire. The first official single ' Hell And Feelin' Fine ' was released on September 1st 2016 and got loads of airtime on Finnish Radio Rock. The debut album was recorded at Karma Sound Studios (Thailand) on May 2016, and saw the daylight on February 24th 2017.
'Traded Dreams' was released via Finnish record label Ranka Kustannus whose captain is the founder of Spinefarm Records – the label behind such acts like Nightwish, Children of Bodom etc. After the release in Finland the album was put out in Germany on May 5th via SoulFood Music and December 15th in Japan via Ward records. The album was produced by Tobias Lindell, who is known for his collaborations with such bands like Europe, Mustasch and H.E.A.T.
The fall of 2017 started with a sold-out tour across Finland with a big heavy metal magnet Battle Beast. The band also played in Japan for the first time and did a 5-day tour of Ukraine in late 2017. In April 2018 the guys did a two week tour across the Baltics and Eastern-Europe.
After their first show in Japan the readers of the biggest rock magazine Burrn! voted TB as 'the 2nd brightest hope' and were chosen as 'The newcomer of the year' on Masa Ito's Rock TV.
'Kill the Voice' was released on November 2nd 2018 and was the first official single from their second album and got a good response immediately after its release and was put on a few big Spotify playlists. The second single 'Distorted Emotions' dropped on February 8th 2019 with a bang.
The second album 'Untamed' dropped on March 8th and immediately got fantastic reviews from the music media such as Soundi and Burrn! magazines.
Temple Balls is currently writing new material for their 3rd album. Whilst writing new stuff the band are headed to Europe on 11th of November until 14th of December with one of the biggest metal acts from Finland – Sonata Arctica. The tour includes 16 countries, 27 cities and many legendary venues such as Electric Ballroom, London and Z7, Switzerland among many others.
Block Buster is a rock band formed in Kuopio, Finland
https://open.spotify.com/artist/3S3GkWRebvqlB3IE48vjbi
https://www.instagram.com/blockbusterband/
Sun 1 Mar
https://www.littledevil.nl/wp-content/uploads/2019/11/76651698_1210486135816573_8021983269421580288_n.jpg
960
779
Jip
https://www.littledevil.nl/wp-content/uploads/2021/05/logoLittleDevil-1210x385.png
Jip
2019-11-21 08:42:33
2020-03-01 23:59:30
Black As Romance: Shiraz Lane (FIN) + Temple Balls (FIN) + Block Buster (FIN)