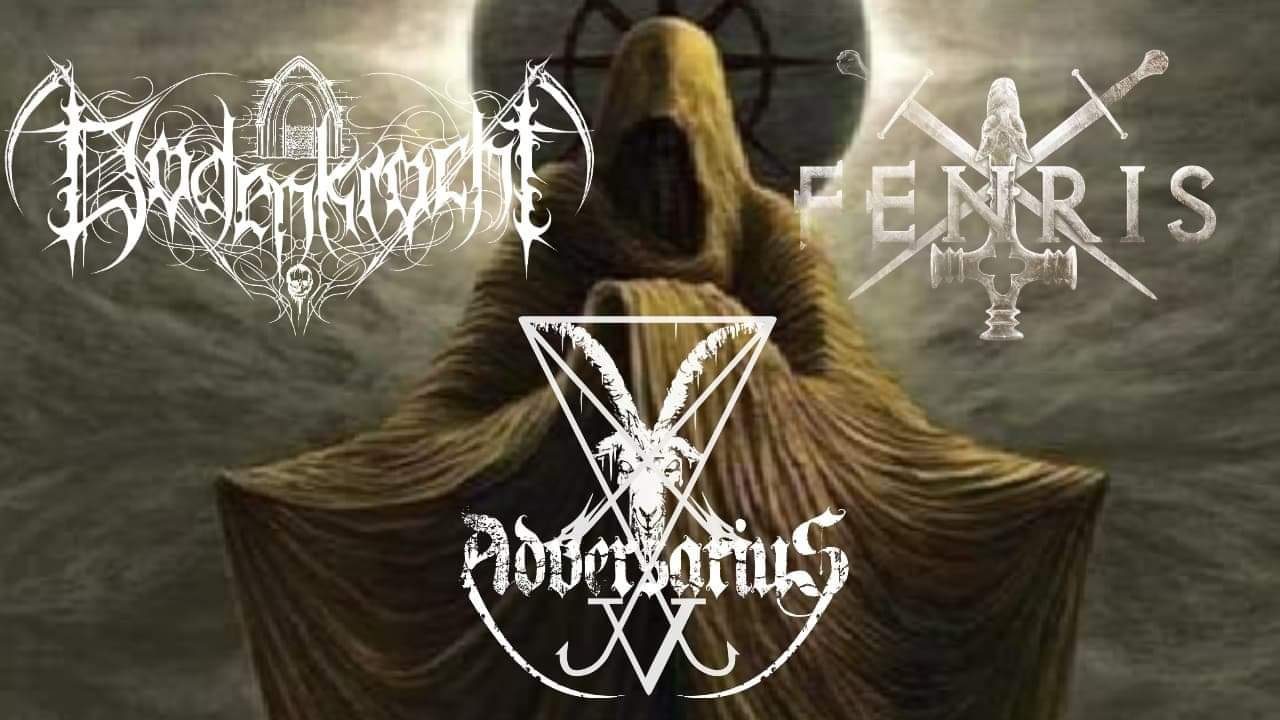 19u / black metal / €7,50
Voor het luttele bedrag van 7,50 presenteren wij U, samen met Cecina Niehof, op deze avond een drietal van Neerlands hardste en zwartgalligste bands. Alle drie staan ze garant voor een felle en overtuigende performance en muzikale kwaliteit.
opgericht in 1997, heeft een lange historie in het combineren van bulderende
vikingmetal met schroeiende black/death metal. Soms verblindend snel, soms atmosferisch,
maar altijd melodisch en dynamisch. Met wortels verankerd in Noordse en Germaanse
mythologieën, en sommige teksten in de moedertaal. De sfeer is die van oude volkeren, hun
hoop, geloof, oorlogen en verschrikkingen. Tot nu toe zijn er drie albums uitgebracht:
'Offerings to the hunger' (2001), 'Ordeal' (2005) en '…en doodenakkers tot den horizon'. Er is pas een split LP uitgebracht met een nummer van Fenris via Zwaertgevegt.
begon eind 2004 als eenmansproject en is sinds 2007 uitgegroeid tot een volwaardige band. De muziek staat voor gitzwarte blackmetal met raakvlakken uit de donkerste hoeken van het doom metal genre. Optredens van de band zijn zeldzaamheden, maar daarin staat het creëren van een drukkende doodse atmosfeer centraal die in dit genre onmisbaar is. Dodenkrocht is doodsaanbidding voor zicht en gehoor.
was formed around the summer of 2015 From the inner divine flame that burns in our hearts. Inspired by those who came before us, it has lead us to the left hand path to create hymns to the dark gods of chaos. Adversarius is a black metal band that honours the tradition.In 2017 we have released our demo: "Die With Your Prophet" and in 2018 released our E.P: "Across The Ageless Waters". In those days we also started performing our live rituals. To deities from ancient times whom we praise and may chaos be the way Hail Satan, Hail Chaos, Hail the ADVERSARIUS! Black Metal is Hatred and Intolerance !
https://www.littledevil.nl/wp-content/uploads/2019/11/78340996_2598789310204683_6114087736304467968_o.jpg
720
1280
Jip
https://www.littledevil.nl/wp-content/uploads/2021/05/logoLittleDevil-1210x385.png
Jip
2019-11-21 08:50:05
2020-01-03 23:59:24
Fenris, Dodenkrocht, Adversarius