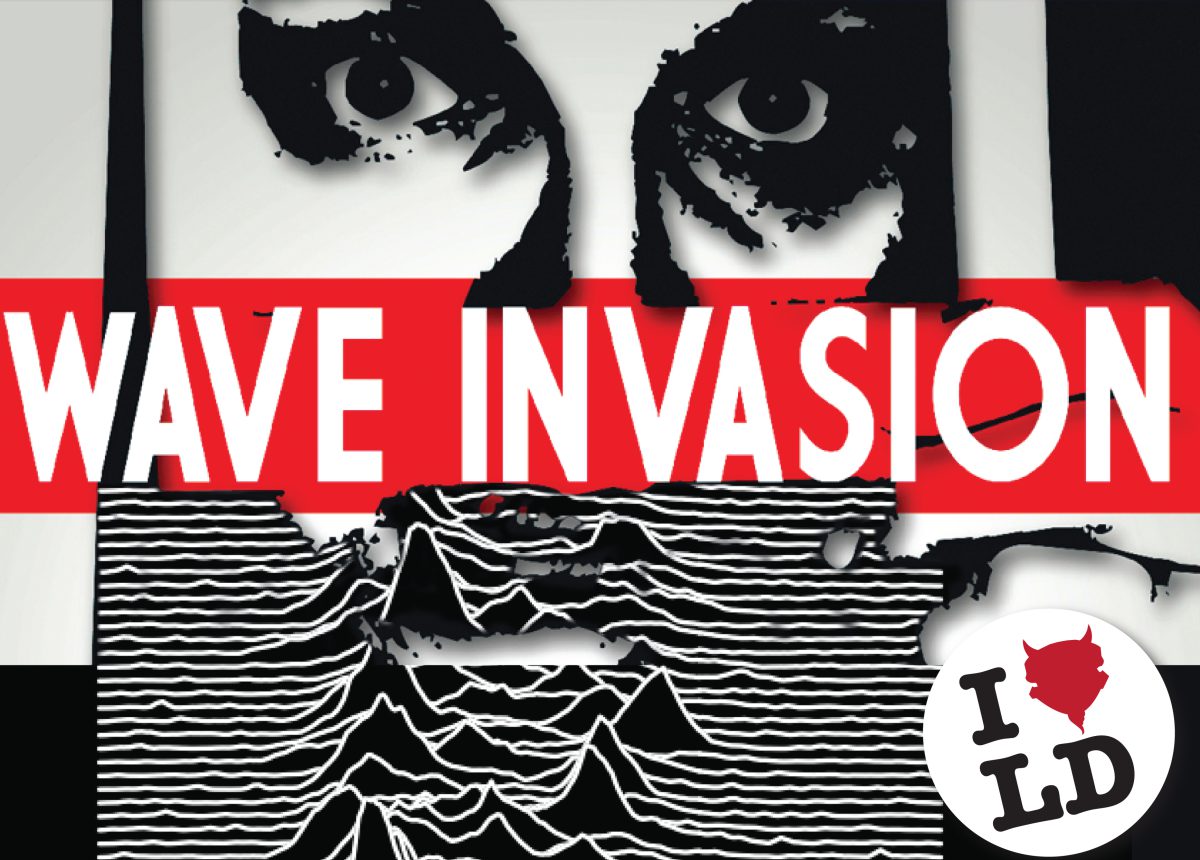 21u / new wave / waverock / 40 years unknown pleasures / gratis

40 Years Unknown Pleasures 1979 – 2019

40 jaar geleden bracht Joy Division haar debuutalbum 'Unknown Pleasures' uit. Een revolutie voor de popmuziek want een genre was geboren, of misschien wel meerdere. 'Unknown Pleasures' word door velen gezien als een pijler voor de Postpunk, Gothic en New Wave-muziek.
Reden genoeg voor het Wave Invasion-collectief om aandacht te geven aan dit feit. Vanavond gaan de bands Palais Ideal en Korinthians zich wagen aan het repetoire van Joy Division. De bands brengen een nummer van Joy Division's Unknown Pleasures en een korte set met eigen werk.
Palais Ideal
– Constructed from fragments of post-punk, new wave and goth.​
– Foundations provided by vintage synthesizers and drum machines
– Overarching structures of sweeping guitars and vocals.​
– Romanticism and stark modernism fused into an energetic new style.​
In designing the Palais Ideal, John Edwards (guitars, vocals, synths, programming) and Richard van Kruysdijk (bass, baritone guitar, backing vocals, synths, programming) have drawn inspiration from works by The Cure, Editors, Joy Division, Interpol, The Sound and the Sisters of Mercy. As musicians and producers, both have worked on projects for independent and major labels and toured extensively.
The Palais Ideal offers visitors an ideal environment for emotional engagement, intellectual stimulation and energetic dancing. In 2017, recordings will be made available and a mobile installation will be performing at various locations.
Korinthians
KORINTHIANS (Ghent, Belgium) blends a straightforward rock outfit (guitar, bass, drums) with synths and samples. "A synth-drunk, propulsive slice of New (non)- Romantic darkwave" (Dave Cantrell).
KORINTHIANS made their debut with the Short Tale EP [2014]. 2016 brought the Olympus EP, recorded by Patrick Van Neck (Arsonist Recordings).
The AWWW single (+ b-side) was released in September 2017, produced by Koenraad Foesters (Studio Jupiter).
"We have Belgium's Ghent-based Korinthians, bringing a synth- drunk, propulsive slice of New (non)-Romantic darkwave to the fore. Full of portent and scathing commentary regarding our sorry modern-day obsession with a sort of rebellious social
conformity, "A Way With Words" simply eviscerates the current hipster dynamic that tends to double as 'coolness,' as 'chic,' as, in fact, 'presence.' As ultimately occurs to its participants, it's not any of that, but instead fleeting moments of false connection. Watch (and listen to) this intensely, or stare away blithely into your phone, the effect is the same: alienation in a modern, Millennial context. Enjoy it while you can, we say, we're all doomed in our dark melodic way." – Dave Cantrell, Stereo Embers Magazine
"Korinthians offer variation and a certain ether-sensitivity without losing their identity or without filing off the edges of their sound. On the radio and in clubs with this and quickly!" – Enola.be
"Their music can be called post-punk, but the references here are manifestly not Joy Division or The Sound. Search rather for Boytronic, of which they play a cover in their live-set. The sound is clear and intense due to the electronic touch. The ominous voice of singer Mattias De Backer reminds of the more
recent work of Kiss The Anus Of A Black Cat."– Dark Entries
Wave Invasion
Wave Invasion is a collaberation between Dutch bands influenced by New Wave Post Punk Industrial & Goth.
We organise concerts, parties and festivals.
https://www.littledevil.nl/wp-content/uploads/2019/04/wave_01062019-1-scaled.jpg
860
1200
Jip
https://www.littledevil.nl/wp-content/uploads/2021/05/logoLittleDevil-1210x385.png
Jip
2019-04-25 14:59:24
2019-06-01 23:59:42
Wave Invasion: Palais Ideal + Korinthians (B)