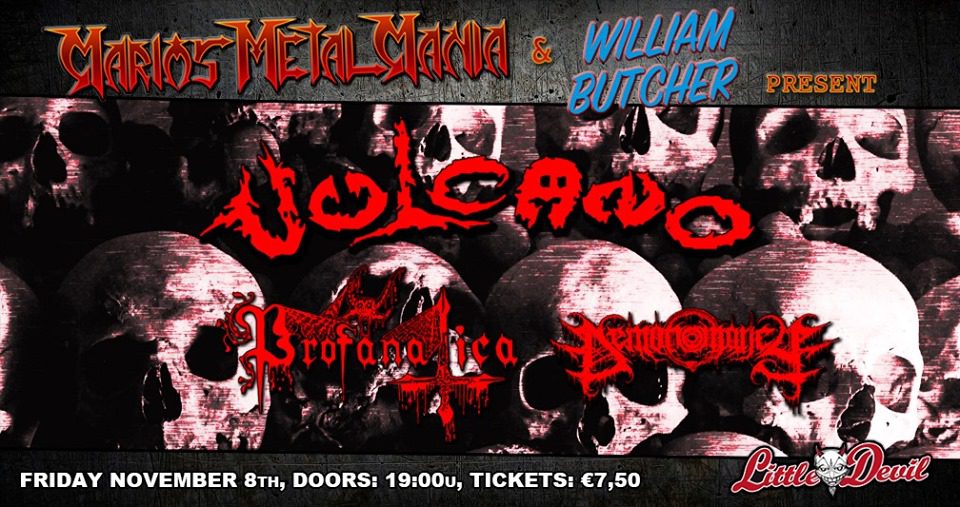 19.30u / thrash / death / heavy metal / presented by William Butcher & MMM / €7,50

Brazilian black/death/thrash metal legends VULCANO signed a two-album record deal and publishing agreement with Mighty Music. The band from São Paulo is currently putting the final touches on their new, 11th studio album, entitled "Eye In Hell", which will be released on LP, CD and digital in early 2020 worldwide on the Danish label. The artwork will be done by Roberto Toderico Art(Tygers Of Pan Tang, Pestilence (official), Sinister) and mastering will happen in Medley Studios (Artillery (band), Thorium, Glenn Hughes), Copenhagen.
Zhema Rodero, guitar player and VULCANO founder, has the following to say about the deal: "This is a great opportunity in our career and we are very proud about it. Wait for our new album in the next months. It will be a great push in the direction of the metalheads all over the world."
Fernando Reis, Mighty Music's international promotor, adds: "Vulcano is one of the bands that still holds the torch of extreme metal of the 80's – raw, undisputed, honest. It's an honour and a pleasure to work with these Brazilian brothers and help show the metalheads – old school and new school – how authentic extreme music sounds like".
Vulcano is a part of the Brazilian Unholy Trinity (together with Sarcófago and Sepultura). In fact, it was the first of the three bands to release a studio album, back in 1986. Ever since then, the group have released 10 full-length albums, toured the world and kept the South-American extreme metal alive.
Formed by three former members of Incantation. Split up around 1992 but reformed in 2001 by Paul Ledney and two session members. Ixithra joined the band in 1992 for one gig, and recorded the unreleased album "The Raping of the Virgin Mary", which had its master tapes destroyed in studio. Interestingly, the unreleased album was advertised by Osmose and showed what would have been the final cover art. Some of the tracks from the unfinished full-length album were recorded and released as Havohej's "Dethrone the Son of God" (along with a few other tracks). A track entitled "Passion of a Liar" was recorded in July 2004 and released only in mp3 form at first. It later appeared on "The Enemy of Virtue". Paul Ledney was the drummer for a G.G. Allin back-up band in 1988 called "The Connecticut Cocksuckers". Aragon Amori was in the hardcore band "Sealed with a Fist" who released one 7″ vinyl in the 1990s.
DEMONOMANCY is the sublimation of primitive human impulses morphed into aural spears that suffocate consciousness in a perennial leprous embrace.
Corrosive vers…es burn superficial organic tissues revealing the pulsating flesh exposed in its primordial obscenity. In this atoning pilgrimage, the unbearable guilt gives birth to inner demons that lacerate the mendacious drape covering our hidden and irrational world. We praise the morbid and forbidden Bestiality to be rejoined with our primeval dimension. We praise the diseased and torbid Spirit bounded by the mortal coil's festering chains. The body is merely a monumental epitaph. Metal of Death – Methodical Chaos
Fri 8 Nov
https://www.littledevil.nl/wp-content/uploads/2019/09/74593928_10219826951334675_5616057953023950848_n.jpg
507
960
Jip
https://www.littledevil.nl/wp-content/uploads/2021/05/logoLittleDevil-1210x385.png
Jip
2019-09-21 13:08:30
2019-11-08 23:59:39
William Butcher & MMM Presents: VULCANO (Brazil) + PROFANATICA (USA) + DEMONOMANCY (Italy)