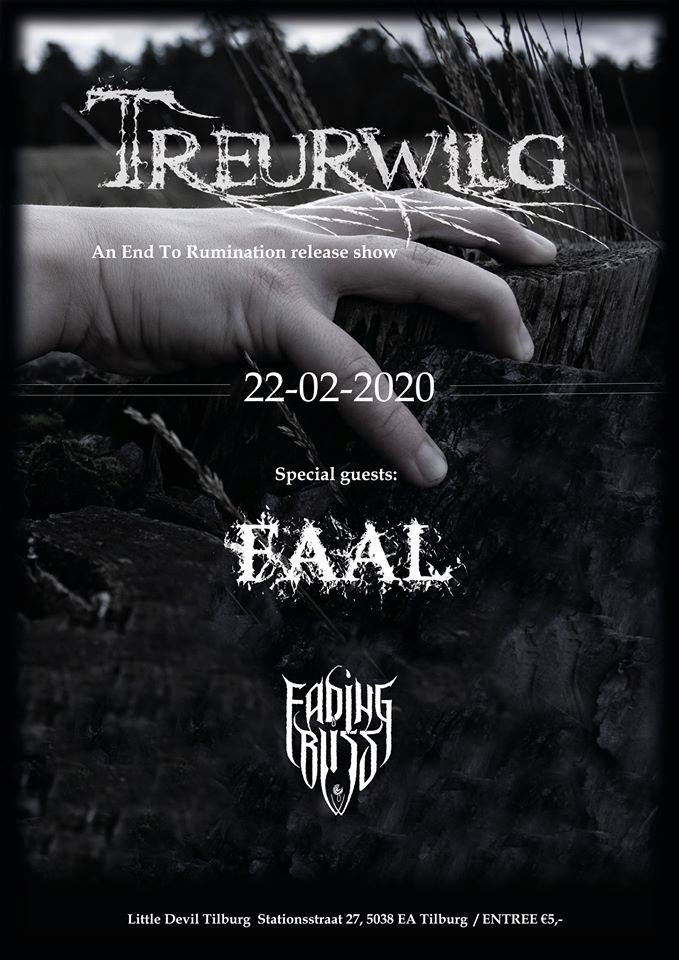 19u / doom / postrock / blackmetal / €5

We are always happy to return to our hometurf, and double so if we can present our new album An End To Rumination for the first time live! We even got you two killer bands to liven up the party even more.
From the depressive depths of Tilburg comes Treurwilg. A massive two-guitar attack of sadness, with haunting soundscapes and rumbling vocals, destined to drag even the happiest soul down to hell. Treurwilg is here to remind you that the world is not a happy place. For fans of Amenra, Ahab, Swallow The Sun, and (early) Katatonia
FAAL was founded in 2005 in the south of the Netherlands. The band's music is influenced by doom-metal, with touches of black-metal and post-rock. Their first album "Abhorrence-Salvation" was released in 2008 at Ván Records. This album received many good reviews, which resulted in a sold out first printing.
The history of FADING BLISS started in November 2009, when Olivier decided
to start a new project combining gothic and doom metal
influences, and paying somehow tribute to the early 90's bands Paradise Lost, My
Dying Bride, Theatre Of Tragedy and alike.
https://www.littledevil.nl/wp-content/uploads/2020/01/80627922_2435073569952415_2643683775212421120_n.jpg
960
679
Jip
https://www.littledevil.nl/wp-content/uploads/2021/05/logoLittleDevil-1210x385.png
Jip
2020-01-06 15:46:59
2020-02-23 00:01:15
Treurwilg + Faal + Fading Bliss