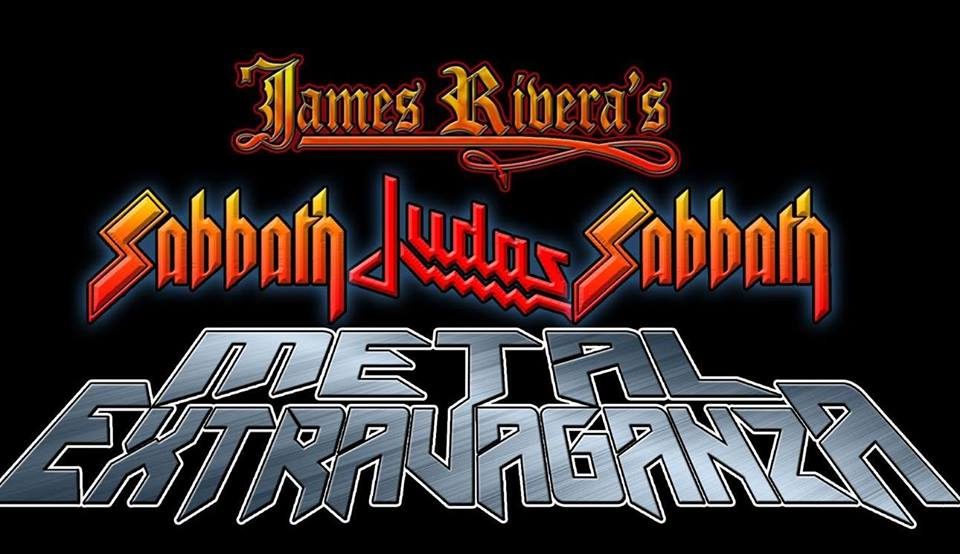 19.45u / classic heavy rock covers / Helstar's James Rivera / heavy Metal / € 8,50(pre-sale) / € 10,- (door)

James Rivera's
SABBATH JUDAS SABBATH
The Ultimate Tribute to BLACK SABBATH & JUDAS PRIEST!
SABBATH JUDAS SABBATH, a tribute to heavy metal icons Black Sabbath (primarily the Dio years) and Judas Priest, is a product of Houston, Texas–based national recording artist, James Rivera. The front man is best known for his long running career as the voice behind Progressive Thrash metallers HELSTAR, a cult metal band that was popular in the 1980's, which in recent years, has resurfaced with a reunited lineup. Rivera is also famous for his opuses DESTINY'S END and DISTANT THUNDER, in addition to his stint with San Francisco Bay area group VICIOUS RUMORS, as well as SEVEN WITCHES. Although the singer has had quite a productive and lengthy music career, Rivera chose to create tribute bands to perform with during times when he is on break from recording or touring with his original acts.
Black Sabbath and Judas Priest, two of Rivera's main idols, have played a highly influential role in his musical profession. Many have compared Rivera's singing capabilities to the vocal styles of Rob Halford and Ronnie James Dio. As a great form of flattery, Rivera felt it appropriate to showcase the effects these artists have had on his music career by dedicating his tribute bands to them.
SABBATH JUDAS SABBATH came to fruition in 2002, although Rivera actually started this concept years earlier as two separate tributes; CHILDREN OF THE GRAVE, A Tribute to Black Sabbath and METAL GODS, A Tribute to Judas Priest. Both tribute bands originated in Houston, Texas and became a commodity in the local metal scene, performing regionally, as well as outside of Texas. Rivera ultimately decided to combine the forces of the two bands to create one superior tribute band, in which he chose for it the fitting moniker of SABBATH JUDAS SABBATH.
Eventually, demand in other market territories including regional Texas and out-of-state areas heightened the band's exposure. This led Rivera to develop chapters of SABBATH JUDAS SABBATH in various cities and states where it has the strongest followings. These chapters extend across the U.S. in the cities of Houston, Texas and El Paso, Texas, as well as the states of Florida, Pennsylvania, California, Utah and at one time even Phoenix, Arizona. In the year 2009, Rivera composed the first European-based SABBATH JUDAS SABBATH and held the band's premier overseas show in Ljubljana, Slovenia. This opportunity opened the doors for SABBATH JUDAS SABBATH to perform and tour in Europe. The European metal community is already familiar with Rivera from his main acts and the continent provides a broader market for these specialty shows. By 2013, enormous appeal throughout Europe resulted in expansion of the single Europe chapter to three chapters in order to further reach the metal masses. The trio of European Chapters are presently located in the countries of Slovenia, Germany, and the United Kingdom.
Rivera has chosen musicians for SABBATH JUDAS SABBATH that he feels are top notch and can effectively hypnotize audiences with a musical illusion of being at a Black Sabbath or Judas Priest concert. The crowds are always in awe over the intensity of the songs SABBATH JUDAS SABBATH performs from their favorite groups.
Notable recording artists and musicians presently or previously in SABBATH JUDAS SABBATH:
METALSTEEL band, Slovenia – European Chapter
Larry Barragan, guitars (HELSTAR) – Houston, TX Chapter
Mikey Lewis, drums (HELSTAR) – Houston, TX Chapter
Eric Halpern, guitars (KRUCIBLE, MINDCRIME, ex-HELSTAR) – Houston, TX Chapter
Jerry Abarca, bass (HELSTAR) – Houston, TX Chapter
Mike Heald, guitars (ex-HELSTAR) – Houston, TX Chapter
Demian Heftel, guitars (Nocturnus A.D.) – Tampa, FL Chapter
Richard Bateman, bass (NASTY SAVAGE, GARDY-LOO) – Tampa, FL Chapter
Mike Theriot and Darrin Goodman, guitars (KATAGORY V) – Utah Chapter
Michael Gilbert, guitars (FLOTSAM & JETSAM) – Phoenix, AZ Chapter
Eric Bongiorno, Chris Catero, Paul Sullivan (WARDOG, RAZER) – Phoenix, AZ Chapter
SABBATH JUDAS SABBATH delivers a strong performance containing classical songs from a vital part of rock history by showcasing two of heavy metal's most influential, powerful and defining bands!
Dark Sky Choir is an original hard rock/metal band from NJ. Formed in 2016, the band originally consisted of four veterans of the local music scene, playing the classic metal music they all grew up listening to. As their local popularity increased as a tribute band, it was inevitable that they soon began writing their own music.
In late 2017, original vocalist, Hollywood How, and bassist Joe Stabile were replaced with Brian Allen and John Moyer, respectively. Allen has been the voice of various bands throughout the years, most notably as the front man for Vicious Rumors for almost a decade. Moyer is best known as the Grammy nominated bassist for the world-renowned metal group Disturbed, with whom he has recorded and toured since 2004.
Inspired by a lifetime love of metal, Dark Sky Choir brings years of live and recording experience to the stage with their own brand of hard rock and metal. Their debut album was released in 2017 and was soon followed up in March of 2018 with a brand-new, self-titled EP featuring the new lineup, as they embark on their first national tour, opening for Fozzy.
BRIAN ALLEN
Hailing from the Pacific Northwest, Brian Allen is currently the front man for the Bay Area thrash-metal band Vicious Rumors. He has long been a staple of the metal scene, singing with such bands as Last Empire (who signed with the Underground Symphony Label in 1999), and Two-Headed Beast, since 2015. He joined Dark Sky Choir in the fall of 2017 to record their self-titled EP.
IRA BLACK
Ira Black recently joined the band in March 2019 and will be a featured on the bands new album End of Days and U.S. Tour with Bobaflex. Black is a 35 year metal guitar veteran who has played in many bands including METAL CHURCH, VICIOUS RUMORS, LIZZY BORDEN and I AM MORBID.
JOHN MOYER
John Moyer is best known as the Grammy-nominated bassist and back-up vocalist for the heavy metal band Disturbed. Taking over in 2004 after Steve "Fuzz" Kmak was fired, Moyer has played bass-guitar with the group since their third studio album, Ten Thousand Fists. Moyer was also the bassist for the Texas-based Union Underground, before joining Adrenaline Mob from 2012 through 2014. After his departure from A-Mob, he was a founding member of the metal supergroup The Foundry, alongside former Iron Maiden vocalist Blaze Bayley, guitarist Rick Plester, and legendary Twisted Sister drummer, the late AJ Pero. In 2015 he joined Operation: Mindcrime, featuring former Queensryche frontman Geoff Tate. Following stints with Art of Anarchy (with Scott Stapp), and Stereo Satellite, Moyer joined Dark Sky Choir in the fall of 2017, and can be heard on their brand-new self-titled EP.
JORDAN CANNATA
Drummer Jordan Cannata is best known for his work with ADRENALINE MOB, STEREO SATELLITE, SUGARMORE, VOICES OF EXTREME and recent fill in dates with DORO!
Sun 4 Aug
https://www.littledevil.nl/wp-content/uploads/2019/07/Sabbath-Judas-Sabbath-Official.jpg
554
960
Jip
https://www.littledevil.nl/wp-content/uploads/2021/05/logoLittleDevil-1210x385.png
Jip
2019-07-20 16:55:53
2019-08-04 23:59:12
Sabbath Judas Sabbath (UK) + Dark Sky Choir