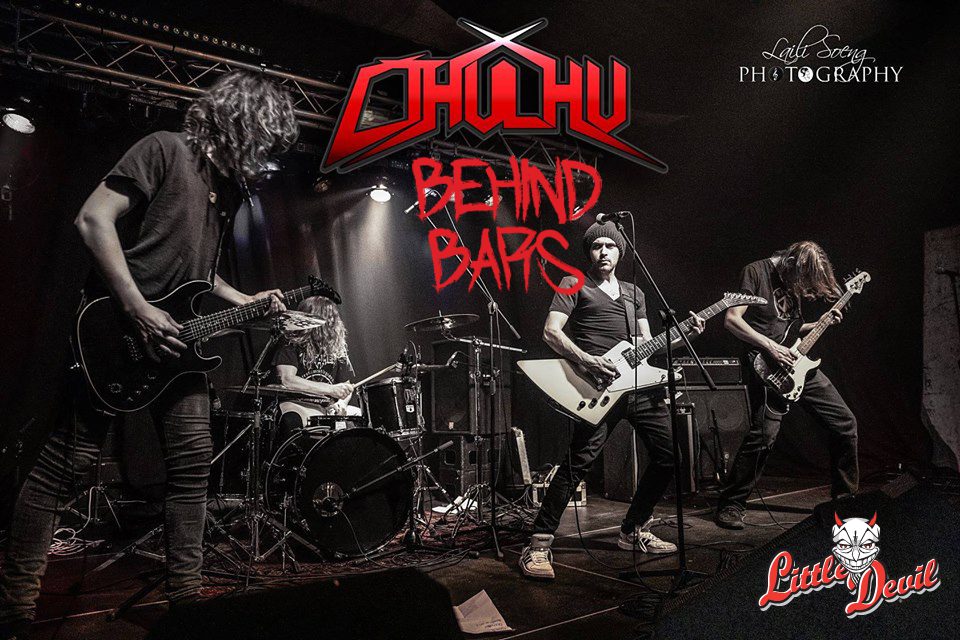 21.15u / thrash metal / hardcore / gratis


Cthulhu, a new thrash metal sensation from the Netherlands. Formerly known as Metallica Tribute "Damage Incorporated", these musicians grew tired of the covershows and decided it was time to see how well the formation would write their own songs. One year later and they're on their way to realise their ultimate goal and become professional musicians, booking shows as much as they can and grabbing any chance to perform live on stage!
Vidal Wildeboer, Cthulhu's vocalist / guitarist and together with our other guitarist Joep Smit, the mastermind behind our music. Having played with many different musicians and in different genres, the experience he's gained is of vital importance to us!
Joep Smit, our guitarist and also the mastermind behind the riffs and melodies! Our newest and youngest but definitely not the least experienced, his views have provided us with some real nasty riffage!
Bastiaan Bijsterbosch is our very own "thunderfingers" bassplayer! Coming from a range of thrash metal bands in the past he's now joined his longtime friend Vidal in a new endeavour called Cthulhu!
Cliff Trieling, our drummer and lyricist is currently following the Artist Study at Metalfactory in The Netherlands. The only music artist study specialised in metal music! He's been practising his thrash and death skills for a good couple of years and now beats the drums for Cthulhu!
Behind Bars is a heavy mixture of thrash and core-music performed in an explosive and energetic way.
The band formed in late 2015 originating from Antwerp, Belgium. Early 2016 they recorded their demo "Breaking Out" wich was the foundation of what they are today.
By combining their different musical backgrounds, they create something all metalfans from every generation would and should appreciate.
After a year of numerous live shows and writing songs they were ready to go back into the studio. Early 2017 they released their first EP called "Our Escape", containing 7 hard-hitting songs that opened doors to support shows for bands like For I Am King, Spoil Engine, Carrion and Moments.
Late 2017 the band decided to participate in the Wacken Metal Battles which they ended up winning out of +100 bands. Wich gave them the opportunity to play at Wacken Open Air 2018. Sharing the stage with bands like Madball, Converge, Gruesome, Fozzy, Dool,The Charm The Fury, Helmet and many more…
Now they're hungry for more and ready to destroy any stage crossing their path.
Definitely worth checking these guys out but beware, standing still will not be an option!
Sat 3 Aug
https://www.littledevil.nl/wp-content/uploads/2019/07/Cthulhu-Behindbars.jpg
640
960
Jip
https://www.littledevil.nl/wp-content/uploads/2021/05/logoLittleDevil-1210x385.png
Jip
2019-07-22 14:30:34
2019-08-03 23:59:10
Cthulhu + Behind Bars (BE)