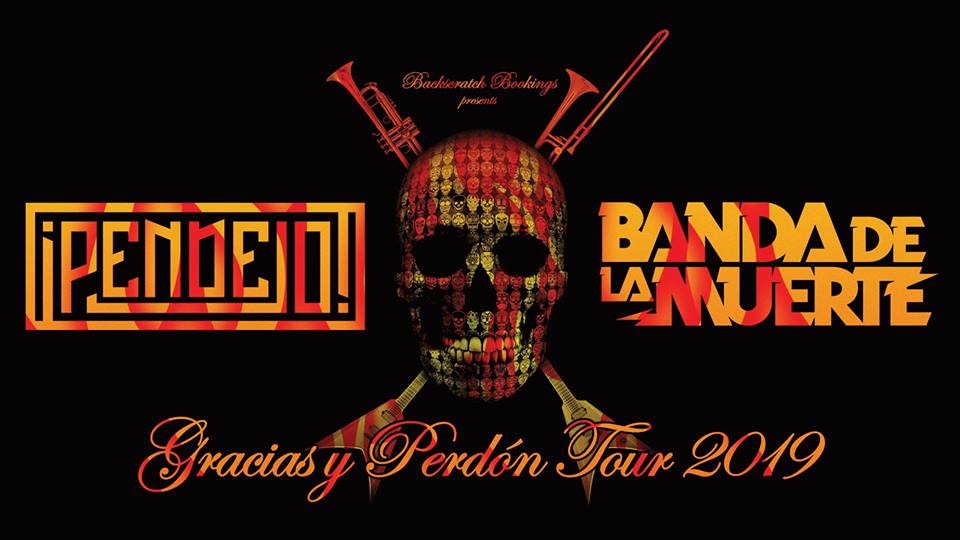 21u / stoner rock / doom / rock / € 7,50

Heavy brass, brutal riffage, pounding drums, cojones, and Spanish urban lyrics that make you wonder "did they just say that?". Yes they did. They go by the name of ¡PENDEJO!
• www.pendejoband.com
Heavy Latin Rock Band aus Amsterdam
Videos: "Bulla" 2018 https://youtu.be/zm16v_BcpJg
"El Timón Holandés"2018 https://youtu.be/vM2R5_CkIeI
From Argentina, a referent country of the Spanish speaking rock and home of very important bands like Pappo's Blues, Vox Dei, Pescado Rabioso, comes Banda de la Muerte, one of the most burning acts of the local scene. Each of the four members of the quartet comes from emblematic origins in the Buenos Aires' stoner and metal underground scene, as for example Jesus Martyr and Motosierra.
The band has been influenced in its origins by the most primitive Black Sabbath and the heavy riffs of Melvins cut by Black Flag's dissonant and provocative attitude.
Banda de la Muerte's style synthesizes the stoner and doom essence from which it comes from with the typical hardcore punk nervousness and the sludge asphyxia, always with very personal feature which coins the legendary elements of the local rock ancestors.
From its foundation in 2009, the band prides itself for being part of the South American Sludge movement having shared the Buenos Aires city arena with their friends of Los Natas, Poseidotica, Dragonauta. It has also been beyond Argentinean boundaries touring internationally with Cultura Tres (Ven) and Hielo Negro (Chi) at the beginning of 2011.
The first band's record was launched in 2009 by Zonda Records. The record has deserved reviews from the specialized press such as Rolling Stone and Jedbangers Magazines. It has also been reviewed by specialized web sited and TV media such as MTV, Much Music, The Sleeping Shaman, Heavy Planet etc. Their sophomore album "Pulso de una Mente Maldita" was released on March29th simultaneously with their first European shows. The tour took them to The Netherlands, UK, Switzerland, Germany and Belgium. Stay on the look-out for more to come from these guys. Because nobody has more zest for life than the Band of the Death!
• www.bandadelamuerte.com.ar
Heavy Stoner Rock Band aus Buenos Aires
Video: "Parte De Mi Historia" https://youtu.be/cKxxkjw2zPg
https://www.littledevil.nl/wp-content/uploads/2019/08/¡Pendej0-HOL-Banda-de-la-Muerte-ARG-1.jpg
540
960
Jip
https://www.littledevil.nl/wp-content/uploads/2021/05/logoLittleDevil-1210x385.png
Jip
2019-08-20 20:21:19
2019-10-12 23:59:06
¡Pendej0! (HOL) + Banda de la Muerte (ARG)