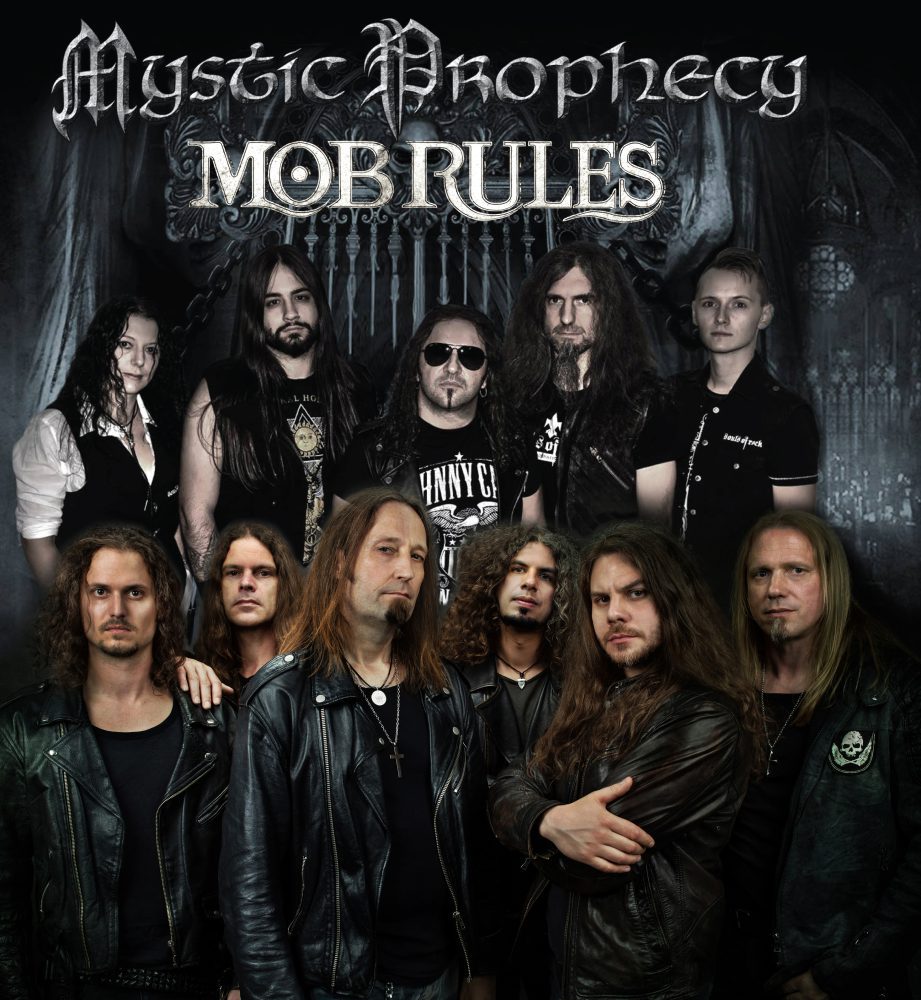 20u / metal / melodic power metal / heavy metal / MMM Presents / €10

Helaas is door familieomstandigheden deze show last minute gecancelled

Reeds gekochte kaarten worden zsm terug betaald.
Dear Friends,
with heavy hearts we have cancel our Netherland shows.
Music is our passion and we are willing to give a lot but more important is family!
If a family member is getting sick you´ll just have the wish to go back home as soon as possible.
We will try to be on Stage in Netherland later this year!
We hope for your understanding!
Truly Yours
Mystic Prophecy
"KillHammer" marks the 8th release by German power metallers MYSTIC PROPHECY.
After the band was abtle to gain a lot of attention with their song "Ravenlord" being placed on the CD compilations of various
magazines such as Rock Hard, Metal Hammer or Rock It!, the band topped all expectations on their co-headlining position on the
"Wolfsnächte" tour with Powerwolf last year.
Quite often the fans had to face the "SOLD OUT!" sign at the venues of the tour.
The tour gave an massive impact on the band and the guys gained many new fans on that tour, especially as it was followed by some outstanding festival shows (e.g., Metalfest, Summer Breeze, NOAF), where MYSTIC PROPHECY once again have proven
their qualities as an excellent live band.
After the tour is usually before the new album, so after their last open air show in 2012 MYSTIC PROPHECY made their way
into the rehearsal room to start working on "KillHammer".
Once again they take no prisoners and straightly hold their course.
Mighty hymns like "KillHammer" or "To Hell And Back" are headbanging essentials and none of these two songs has to hide
behind the band hymn "Ravenlord".
But MYSTIC PROPHECY also known for delivering fast and aggressive tracks – this can also be found on the new album with
tracks like "Armies of Hell" or "Set The World On Fire".
The musical range of MYSTIC PROPHECY goes from Accept over Judas Priest to thrash metal legends like Exodus or
Annihilator.
The press already gives praise to the album like Andreas Schöwe (e.g., Metal Hammer, EMP, Rock It), who writes:
"»KillHammer« can be called a killer album already which will hit every fan of melodic heavy metal like a
sledgehammer!"
There's a lot ahead for Mob Rules: In 2018 they celebrated the release of their ninth studio album, 2019 their 25th anniversary … Sounds like outdated, dusty rock-geezers? Far from it! These guys are fresh like never before! "Straight, fastforward and powerful" describes the six Nordics, who sound younger than ever.
That's also what the audience feels at Mob Rules concerts, when they are being caught by a soundwave, that seems to come straight out of the cold, harsh North Sea, where Mob Rules have their roots. Here everything is going to be flooded with crystal clear and mighty sounds. Like splashing spray, they swirl through the room raw and powerfully, causing eardrums to vibrate and heads to bang. No one sits still, while Mob Rules perform. This specific energy grows through the music and rises above, to an emotional bond between the band and their audience, which the musicians highly appreciate. They maintain close contact to the public, their fans can rely on meeting the band at the merch booth after each and every single show. But it is not only this special closeness, what defines Mob Rules as an outstanding Live-Act: it is also the titanic performance of singer Klaus Dirks. Being the frontman he gives his best while bombarding the audience with his clear, outstanding voice. He dominates the show, unites the music with his performance – one can hardly believe this phenomenon to be an autodidact.
Klaus Dirks, who was co-founder of Mob Rules in 1994 in Wilhelmshaven, gathered five gifted musicians around himself, who sound perfectly in tune with each other on this new album. Latest addition is Sönke Janssen, who completes the band as second guitarist with his technical sophisticated and yet passionate play. In 2017 he got to share the stage with Axel Rudi Pell, who invited Mob Rules to support his tour. Lead guitarist and songwriter Sven Lüdke was Janssens guitar teacher for years and brought him into the band. That explains the high level of mutual trust between them, which lead to a melodic expressive und virtuous sound. Lüdke himself, being a band member since 2005, soon got to experience some of the bands highlights: a support tour with UFO through Germany and Scandinavia in 2007, and a concert in front of 25.000 people at Magic Circle Festival in 2007.
Shortly after Lüdke, Markus Brinkman joined, to enhance the band with his straightforward bass play. The love for his instrument is to be heard with every strike of the strings. Without frills he ensures the unique deep, strong feeling, which makes Mob Rules distinctive. Also drummer Nikolas Fritz is conductive to this. His well versed, passionate play makes Mob Rules drums bang, crack and explode, which they showed shortly after Fritz' entry into the band at the Bloodstock Open Air in Derbyshire, UK. Being a graduate graphic artist, Fritz creates the special artworks for Mob Rules. Also Jan Christian Halfbrodt has a hand in the one-of-a-kind atmosphere of Mob Rules, by building new fantastic worlds with his lyrics and as a keyboarder. Being a part of the band since 2011, he started the second journey to the USA of Mob Rules: In 2011 they played at Prog Power Festival in Atlanta.
This band constellation has got the lot: Two headliner tours followed in 2014 and 2016, as well as various festival appearances, a 20th anniversary fan-box, support for the release shows of Orden Ogan in 2017 and two studio albums. Especially their last album "Tales from Beyond" was praised by the critics saying that it blows some fresh wind, which gives a new lift to the band. With that energy they plunged into work, to produce this new album, which will convince anyone in August 2018 with its dynamics and innovative power.
https://www.littledevil.nl/wp-content/uploads/2019/09/Mystic-Prophecy-D-Mob-Rules-D-scaled.jpg
1000
921
Jip
https://www.littledevil.nl/wp-content/uploads/2021/05/logoLittleDevil-1210x385.png
Jip
2019-09-26 19:31:17
2020-01-17 23:59:04
CANCELLED: MMM Presents: Mystic Prophecy (D) + Mob Rules (D)