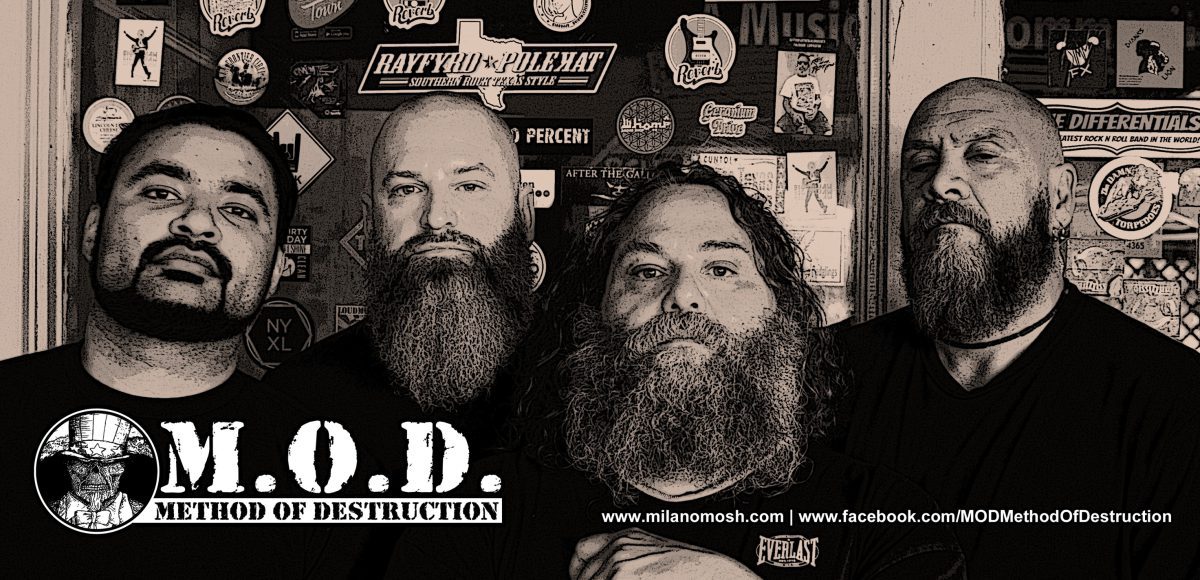 18.30u / hardcore / thrash crossover /€10

Vijf jaar geleden stonden de hardcore / thrash crossover veteranen van M.O.D. in Little Devil met een legendarische show waar we vaak met veel vreugde en nostalgie op terugkijken.
We zijn dan ook zeer blij, verrast en trots dat we een reprise krijgen van deze show. Met exact dezelfde line-up als toen en exact dezelfde mooie mannen die er weer een legendarische avond van gaan maken!
With song titles like "You're a Fucking Dick", "Busted, Broke & American", and "All Out of Bubblegum", you would think that M.O.D. — shorthand for Method of Destruction — and their founder and fearless leader (the artist formerly known as the Legendary Billy Milano), aren't masking their intentions on their new album. In fact, it would be a logical assumption that Milano and co. are putting their unabashed and unedited thoughts and feelings out there for all to see and hear with their new album Busted, Broke, and American — self-righteous and politically correct social justice warriors be damned!
As to be expected, Busted, Broke & American is fast, it's furious, and it makes no apologies. It also mixes hardcore, punk rock, and thrash and the end result is a thoroughly combustible collection of songs. The words "I'm sorry" are not a part of the album's vocabulary. At the center of the sonic storm remains Milano, who has never been known to shy away from speaking his mind.
Billy Milano, a voracious reader, avid cook and a Proud and Loud Republican, inadvertently resurrected his hardcore punk rock band in a time when he needed it most. You'd be mistaken to assume anything when it comes to Billy Milano. For M.O.D. and their new album, which finds the band returning to original label home Megaforce Records after two decades, there was no pre-determined mission. At all.
It was born of love.
"I had taken off time with M.O.D. in 2009," Milano recalls. "We had done 100 shows for [2007's] Red, White & Screwed. I needed a break. My dog Buster, an American bulldog, got sick with cancer and I started to play guitar again while staying home with him. I started jamming again, anticipating something quick, but it wasn't."
Buster was a huge part of Milano's life, having toured with the frontman. As anyone that truly has forged a deep bond with a canine can relate to, Milano turned to his trusted instrument to help him endure the pain of watching his friend wind down his life. "I just started playing guitar, while sitting there, looking at him, giving him medicine," he says. "I wanted to run and play with my dog, and I couldn't. The only way to be with him was to sit there and play guitar. I had no goal to do a record. I just wrote all the material."
'I've never been happy with the falsehood of the music industry," he says. "I am a street, a real guy. I am not a 'keep it real' guy. I had no goal to get back to the industry." But he's is and he's armed with an album that demands to be heard.
While Milano may be older and wiser these days, he's not any softer. He's admittedly still cynical, but has learned to temper it by being more caring and forgiving. Still, music remains something he loves doing And he still operates off the zero fucks given principle. "I don't give a fuck, but I like playing," he reasons. "I like making records. It's like cooking — it's an extension of me. If I do it as a job, I am going to fucking hate it." So he proceeded with Busted, Broke & American without ever treating it like it was a job and the album is devoid of any and all pretense.
Busted, Broke, & American is an album that will resonate. "Here I am, in my '50s and a grandfather, and I wrote the best record of my career," Milano exclaims. "A someone who has always done what I want to do, I had no intentions of doing what I did with this." Indeed, the album is a balls-out, hardcore x punk rock accident.
The album also points out harsh realities. "Music gets convoluted with movements," Milano notes. "I don't want to go up there and be someone's sword and if you want to talk to me and gain insight, I am happy to give it. My music reflects life. It's merely subject matter and it's what's in front of you. It's not the message or the messenger. If I stand in a field and stare, I will see what's in front of me. What's behind me is different. If it's behind me, how can I reflect on it? If I stare at something, I can form an opinion. I can bring it to the forefront." And that's just what he does with his latest sonic warhead.
Busted, Broke & American is raw and honest. It may also be M.O.D.'s final full length, according to Milano.
But just like he wasn't thinking too far into the future while writing the album, he's focusing on the present and the music he has just made. All he really wants is the fans to hear the new album, which he dubs "simple, fast, furious, hardcore punk music."
In fact, Milano is also proud of the fact that the album embodies a quote that Agnostic Front guitarist Vinnie Stigma has been saying since the '80s. "If you ain't hardcore punk, you ain't shit."
Busted, Broke, and American is hardcore punk and it is indeed the shit.
Once upon a time, in Tilburg in the mid-80`s era, there was a hardcore band called S.R.V. There also was a hardcore band called Kutnaam 1001. We and lots of other hardcore bands played in local venues like the BatCave. In 1994 Kutnaam 1001-vocalist Meeri joined forces with the three S.R.V.-members. From that moment on we existed as MilkMan.
MilkMan was:
Meeri – Vocals
John – Bass
Sers – Drums
Robin – Guitars
We just wanted to have fun and show what kind of hardcore we like by playing covers from cool bands. After that show we decided it would be a shame to quit and started working on our own material. This resulted in the demo "It`s Not a Choice" (1995) and our first cd "Combover World" (1998). Loud, fast and tight was going to be our motto. We played our first gigs and appeared on a couple of compilations.
In 2000 Kangaroo Records from Amsterdam started to show interest in us. Having a reputation for releasing loud and fast hardcore we felt it would be the perfect label for us. In 2001 Kangaroo released our second cd "Fresh Fruit For Rotten Aliens". The music was the most brutal music we`ve ever made. The reactions to the cd were very good and the MilkMan name started to spread further and further, resulting in more compilations (a.o. the official DRI tribute cd) and a split single with Dutch band Plankton.
Early 2003 we released our third album, "Is this Punk enough for you?", again on the Kangaroo label. Harder, faster, louder, better than ever before! 21 bursting songs in 24 minutes. For the first time the album has been released not only on cd, but also on vinyl.
Our live shows are getting better and better, loud, fast and above all, tight. Live MilkMan means no nonsense, let the music do the talking, full speed ahead shows. We played with bands like DRI, UK Subs, Cause for Alarm, Poison Idea, Gang Green, Carnivore, Pro-Pain, the Anti Nowhere League and of course Municipal Waste, with whom we played lots of gigs. Together with American label mates Out Cold we played shows in countries like Macedonia, Serbia, Slovenia, Slovak Republic and Czech Republic.
In August 2007 it was time for our fourth album "Nostalgiator". Still fast, loud and tight, but slightly more diverse it took three days instead of the usual two to record and mix it. This time released by Shield Recordings it`s another highlight in our still expanding discography. Of course a new album means more gigs, having fun, drinking beer, meeting people, the main reasons why we started this band.
In 2009 we celebrated our 15th anniversary in style with a big party at the 013, a new album and a new website.
So here we are in 2018…
After 23 years John and Meeri quit the band, We still haven`t been able to find suitable replacements and have decided to take a little break, but we will be back…
https://www.littledevil.nl/wp-content/uploads/2019/12/78888682_1218614811670372_226558481186947072_o-scaled.jpg
580
1200
Jip
https://www.littledevil.nl/wp-content/uploads/2021/05/logoLittleDevil-1210x385.png
Jip
2019-12-03 02:37:34
2019-12-16 00:00:20
MOD (USA) + Milkman + Bakkes