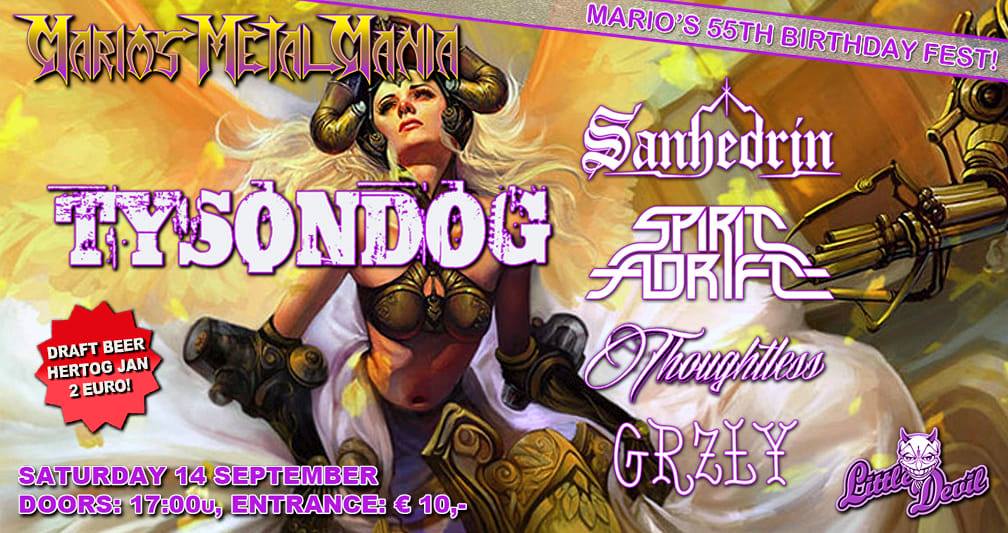 17u  / presented by MMM / Heavy Metal / Hard Rock / €10

After being in the kennel for the best part of 20 years Tysondog are back, barking louder and fiercer than ever! The first proper line-up quickly landed a deal with local label Neat (based in Wallsend), the same town where Tysondog were based. Having bumped into one of the company's execs in a car park and given him a live tape, and recorded their first single, 'Eat The Rich', in mid -'83, with Hunter by now on vocals and guitar. However, before this was released the 'Dog had expanded to a five-piece, adding Clutch Carruthers on vocals. He made his recording debut on the B-side, 'Dead Meat' – showing he could roar with the best. Reeve quit… to become an actor. His replacement was one Ged Wolf, whose brother Eric Cook managed Venom. Still with us? The Venom connection is important…The new 'Dog recorded their debut album, Beware Of The Dog, working with none other than Venom bassist/vocalist Cronos as producer (told you the connection was important); the latter had significant studio experience behind him, and was far from a publicity seeking choice. And for the most part, Beware… showcased a band with a real bite in their music. Today over 25 years after its release in 1982, it stands up remarkably well to scrutiny. Check out the blasting 'Hammerhead', or the gnawing 'Dog Soldiers', or for that matter the feisty 'Demon'. What they lack in subtlety – never a Tysondog trademark, anyway – is more than made up by the energy and enthusiasm that radiates from the music. Beware Of The Dog is an underrated album that many others would be proud to have recorded at the time. After many years retirement Tyson reformed, seeing Phil Brewis taking his seat on drums and Steve Morrison on guitar Tysondog powered their way back, 2015 was their release of album number 3 Cry Havoc. 2018 – due to bad health John Clutch Carruthers had to retire – in walked French vocalist laurent Bocquet , aka Bill Gang from French rockers Gang. Album number 4 awaits.. This is a band who represent the true spirit and ethos of NWOBHM – and many years on from this particular movement, people the world over are still desperate to find out the minutiae of the genre. And it's great to be able to listen once more to their albums, providing that an absence of ability wasn't to blame for their failure to make it to a higher level.  In 2012 they already co-headlined Mario's Metal Meeting 6 with their buddys from Avenger! Now they finally return to Tilburg to show their skills again!!!
Brooklyn's Sanhedrin scale boundaries and elude genre norms on their second studio album, The Poisoner. The band's intoxicating blend of doom and classic metal is complemented by lyrics that delve into the darker elements of humanity and the cyclical nature of destructive ideas. Thought-provoking and inherently catchy at the same time, The Poisoner is indicative of a band unafraid to venture into unchartered territory. Sanhedrin's 2017 A Funeral for the World debut full-length was originally released independently, but reissued for broader release by Cruz Del Sur Music in 2018. The Poisoner picks up where its predecessor left off, with the Brooklyn trio (who consist of former Amber Asylum/Lost Goat bassist/vocalist Erica Stoltz, Black Anvil guitarist Jeremy Sosville and drummer Nathan Honor) parlaying their vast array of influences into eight gripping, instantaneously memorable numbers that rely melodic riff choices, the affecting vocals of Stoltz and touches of dark atmosphere. Recorded with producer Colin Marston at Menegroth, The Thousand Caves, the members of Sanhedrin cite Marston's ability to pick up on the minute details of their sound as one of the reasons for their collaboration, which began on A Funeral for the World. According to Sanhedrin, Marston, who usually tackles some of extreme metal's most unique and unrelenting acts, is on the same sonic wavelength as the band, capable of translating their musical vision without sacrificing the raw and natural elements of their sound. The Poisoner reflects the various sides of Sanhedrin, from classic, if not soaring jaunts, to tight, direct melds of gallop-oriented metal to doom-channeled motifs, most notably, the album's title track, which features a guest appearance by Stoltz's former Amber Asylum bandmate Kris Force on violin. This diversity is less of a jigsaw than it is the natural melding of various ideas and styles, taking Sanhedrin to new places on each song. On The Poisoner, Sanhedrin defies categorization, hereby entering into their own carved-out space where exploration and timeless songwriting are paramount. According a lot of people thuis is one of the best newcomers of the last few years!! The band is on tour BUT this is their first Dutch show ever!!!
 A melodic, riff-forward doom metal unit based out of Arizona, Spirit Adrift is the brainchild of guitarist and vocalist Nate Garrett, who also plays with Tempe-based death metallers Gatecreeper. A native of Fayetteville, Arkansas, Garrett spent his formative years soaking in the Ozark Mountain city's surprisingly vital metal scene. Honing his skills in local bands and hitting the bottle hard, Garrett eventually relocated to Arizona where he sobered up, joined the popular regional death metal outfit Gatecreeper, and started his own band, Spirit Adrift. Fusing his love for Southern rock, classic doom metal, and traditional heavy metal, the project's debut album, 2016's Chained to Oblivion, evoked names like Black Sabbath, Baroness, Judas Priest, and even Thin Lizzy. A split with Denver doom rockers Khemmis preceded the release of the group's sophomore effort, Curse of Conception, which featured a fully fleshed-out band — Spirit Adrift's debut was primarily a Garrett solo vehicle. 2019's versatile Divided by Darkness saw the band go all in on their neck-snapping amalgam of thrash, doom, NWOBHM, and melodic metal.
Thoughtless bestaat sinds eind 2015 en is opgericht door Axel en Ivo uit Deafaning. Later sloten Arno van de Reep (Mindbeacon), Rebecca Duin (Ex Jackal) en Daniel Lutgerink (Nervous Breakdown) aan. De muzikanten hebben al flink wat podiumervaring. Rebecca heeft gastbijdrages geleverd op de EP van Sinister, The Unborn Dead en aan 2 nummers op de CD Quantified self van 3rd Machine. Je kunt Thoughtless het beste omschrijven als een stevige metal band met thrash invloeden. De nieuwe EP van Thoughtless zal dit voorjaar verschijnen.
More news soon!!!!
GRZLY
What started about 20 years ago with playing in bands such as Reliance, FALL, The Mooze Men, No Reason Why, The Black High,  etc. now comes back to the basics and blends the bands together into 1 for the past 20 years of experience. all sounds like the band name says: GRZLY. Lately Peggy Meeussen (ex-BLIKSEM) was added to the line-up as lead vocalist! Come on time to check this cool band out!!!
Sat 14 Sep
https://www.littledevil.nl/wp-content/uploads/2019/04/MMMarios-55th-Birthday-Fest-Tysondog-Sanhedrin-Spirit-Adrift-GRZLY-Thoughtless-.jpg
533
1008
Jip
https://www.littledevil.nl/wp-content/uploads/2021/05/logoLittleDevil-1210x385.png
Jip
2019-04-25 17:59:34
2019-09-14 23:59:11
MMMario's 55th Birthday Fest!: Tysondog + Sanhedrin + Spirit Adrift +Thoughtless + GRZLY