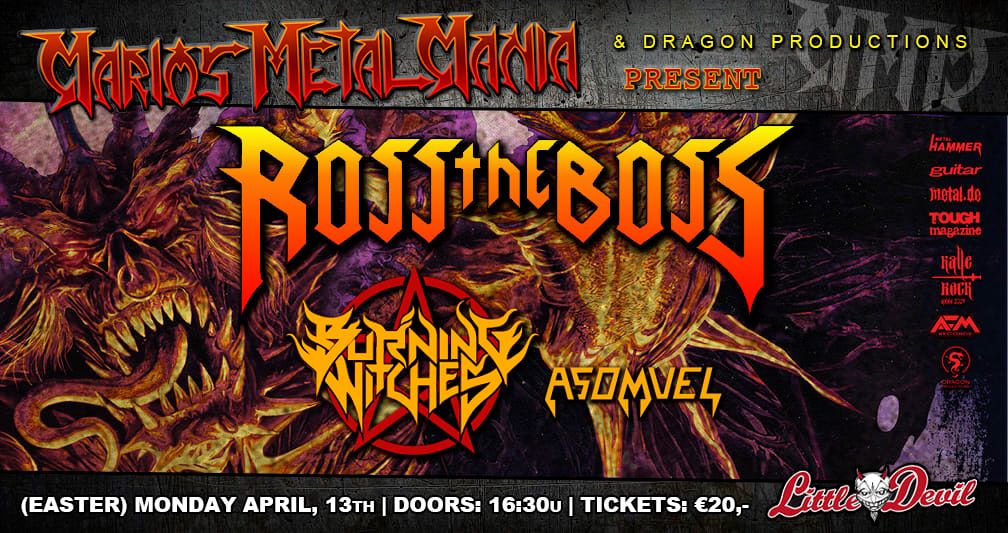 16.30u / heavy metal / €20

Ross "The Boss" Friedman
As a child growing up in New York City, Ross "The Boss" Friedman showed great promise as a piano and violin prodigy, but when he first touched the electric guitar he knew he found his true love.
He met Andy Shernoff in 1973 while playing in one of his bands at a house party in his teenage years. Together, they created a band known as The Dictators, who became the first signed Punk Rock band launching the CBGBs scene. Known for their sense of humor and affection for White Castles and wrestling, they were one of the most copied and influential bands of the genre.
Blue Oyster Cult Producer Sandy Perlman was the manager for both The Dictators and French Rock Band Shakin' Street in 1979 when Ross needed a gig and Shakin' Street needed a guitar player. Ross flew to France and floored everyone with his guitar playing. He joined the band, lived in France for a year, recorded an album, learned to speak French and toured the world with the band.
While Shakin' Street was opening for Black Sabbath and Blue Oyster Cult in 1980, Ronnie James Dio introduced Ross to crew member Joey DeMaio. The two of them agreed on their vision for what a Heavy Metal band should be and together, they co-founded Manowar. They created their own subgenre and dubbed it "True Metal" playing epic songs with viking themes at very loud volumes. His eight years and six albums with this band gained him an unbelievably loyal cult following who widely considers Ross The Boss to be the definitive Manowar guitar player.
The Dictators revamped into a new band called Manitoba's Wild Kingdom in 1989 that bridged that gap from punk rock to metal, and really allowed Ross The Boss to showcase his kind of guitar playing. Even though each of his bands are a different musical style, he says he's always, "Just playing Rock and Roll".
When his son was born in 1991 he stayed closer to home being a great dad and making music with his friends and other New York based musicians. During that time he had a few major releases and played shows with his bands The Pack, the Blues Rock "Heyday" and The Spinatras. The Dictators continued to tour and made a highly acclaimed studio record " D.F.F.D.", a live CD "Viva Dictators" , and a Greatest Hits and Early Demos compilation.
In 2005, the time was right for him to join former Blue Oyster Cult drummer Albert Bouchard in his band The Brain Surgeons, winning over audiences with his own style of guitar playing, and kicking the band up a notch into new territory for two albums.
Ross constantly writes and records new music and reunites with his old bands and former band members for special shows and projects. His 2005 appearance with Manowar at the Earthshaker Festival was so successful he formed his own "Ross The Boss" band and signed with AFM Records Germany. His two critically acclaimed solo albums 2008 "New Metal Leader" and 2010 "Hailstorm" saw him playing shows and festivals all over the world, putting him back in front of a Heavy Metal audience and reminding everyone that Ross The Boss is one of the world's most loved Metal guitar players.
As people started connecting with him on the internet, he began to collaborate with musicians online and guesting on tracks for bands like Majesty, Wotan, Atlantean Kodex and The Vibrators to name a few.
His newest project "Death Dealer" began as an online collaboration but quickly gelled into a supergroup featuring Sean Peck (Cage), Stu Marshall (Dungeon, Empire of Eden), Mike Davis (Halford, Lizzie Borden), and Steve Bolognese (Into Eternity). The band has been touring the world for their debut album "Warmaster" and is getting ready to release their second album "Hallowed Ground" in 2015.
The band Burning Witches was founded during spring 2015 in Brugg, beautiful Switzerland, by guitar player Romana Kalkuhl. It has always been her big dream to perform with a women's heavy metal band on stage. During the music university studies she already started her first group: ATLAS & AXIS with which she has already recorded two albums and played several concerts!
In 2015 Romana started to look for talented ladies for the new combo. Jeanine Grob (bass) a longtime friend, became the first official member. At a party on a festival Romana met Seraina Telli (singer) for the first time. It clicked right away betweens the two girls, on a musical and on a personal level. Seraina brought in many ideas and a lot of experience cause of her studies at the Music Academy and her band SURRILIUM. The guitarist and the singer became a great songwriting team right away!
Romana wrote her mate Schmier from DESTRUCTION / PANZER about her new project, he was interested in the new outfit and the ladies brought him onboard as a producer / consultant!
After an intensive search and different auditions, BURNING WITCHES found Lala Frischknecht the perfect drummer for the all chick metal band . Since summer 2015, the girls have been working hard on new material and in autumn 2015 they recorded the first three songs with VO Pulver at Little Creek Studio (PANZER / PRO PAIN / DESTRUCTION).
The search for the right band name was kind of easy, because if four crazy girls burn hard for Heavy Metal, they can only call themselves BURNING WITCHES.
Playing traditional heavy metal needs a second guitarist. That's why Romana asked Alea Wyss, her former classmate in School of Music, to play the second Axe.
The self-titled full length debut album "Burning Witches" was released in May 2017, which caught a lot of attention in the metal world.
Due to personal reasons, Alea unfortunately left the Band by the end of 2017 and got replaced by the young and very talented Sonia Nusselder from the Netherlands!
Burning Witches got signed by the mighty Nuclear Blast records and have released their second full length album "Hexenhammer" in 2018. Also the debut album was re-released via the label from Germany.
On June 2019, Seraina Telli decided to leave the Band to focus on her own career. Due to the Swiss – Dutch connection, the girls found the amazing Laura from the Netherlands pretty quick and she was a great match right away . Laura's highly melodic but also aggressive metal voice fits perfectly into the Burning Witches music & concept!
Since then these ladies have been busy playing all around Europe and even Russia, they also rocked the big open air festivals like Wacken Open Air, Summer Breeze, Rock Harz and Sweden Rock.
The first single with Laura is called "Wings of Steel" and the reactions from the devoted fans were really enthusiastic. At this moment the girls are completing the recording of the 3rd album, that will introduce enchantress Laura as a new vocalist. The album will be released in March 2020 via Nuclear Blast records!
A Dream To Some…A Nightmare To Others.
These guys calmly walk on, bludgeon your senses with a baseball bat and then retire to the bar, leaving you with what's left of your mind in a pool in your pants.
"The best heavy metal has plenty of dirt under its fingernails: this lot must never be allowed to work in a food preparation area." – Dom Lawson, The Guardian
ASOMVEL released their well-respected debut LP, Kamikaze, in 2009. Barely a year later, the band was shaken to its core when front-man, Jay-Jay Winter, was killed in a road accident.
Although a devastating tragedy, co-founding guitarist, Lenny, knew that the band had to continue in tribute to the determined spirit of their founder.
Since releasing their 2013 album, Knuckle Duster, with Bad Omen Records to much critical acclaim, and recruiting Jay-Jay's Nephew, Ralph, the band has spent the last couple of years playing around the world; including a tour of Brazil, dates in Japan, Slovenia, Germany, Spain, France, Ireland – these dates included many respected festivals such as Hammerfest, Party San Open Air, Siege of Limerick, and MetalDays.
ASOMVEL are set to release their third album, World Shaker in 2019.
Mon 13 Apr
https://www.littledevil.nl/wp-content/uploads/2020/01/83061254_10220521159289440_7939527666934218752_o.jpg
533
1008
Jip
https://www.littledevil.nl/wp-content/uploads/2021/05/logoLittleDevil-1210x385.png
Jip
2020-01-21 00:51:10
2020-10-28 09:01:27
[POSTPONED] ROSS THE BOSS + BURNING WITCHES + ASOMVEL