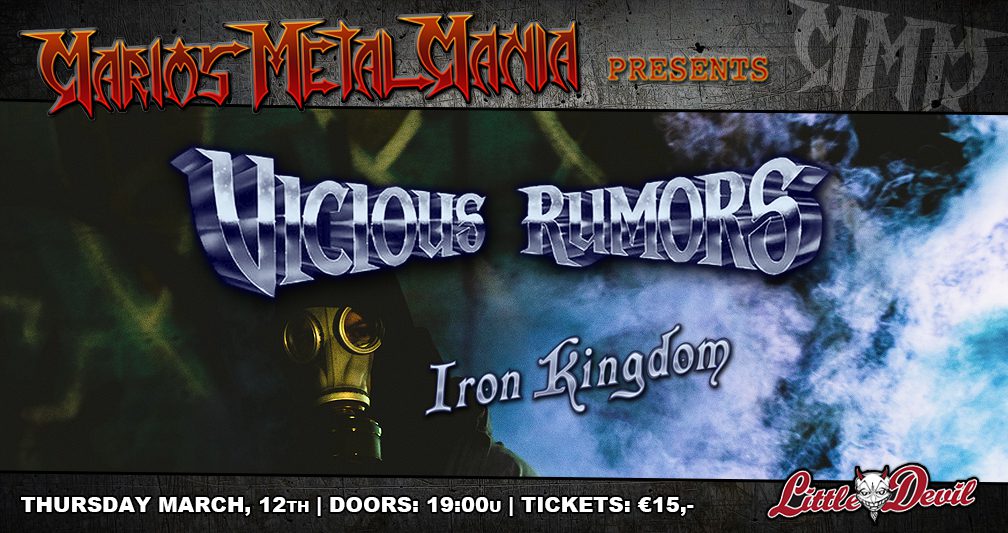 19u / heavy metal / €15
Vicious Rumors are proud to introduce Nick Courtney on lead vocals for the upcoming 46 date "Digital Dictator 30th Anniversary-Tour" of America and Canada from Aug 31 to Oct 20. Due to the massive size of the US-Tour the band will bring the Digital Dictator-Tour to Europe in March / April 2020.
Vicious Rumors recently posted this message on their site and social media channels, the fans in Europe / the Netherlands saw March / April 2020 in particular.
The gentlemen of Vicious Rumors are of course no strangers to Dutchand Tilburg fans. Whether it was the Aardschokdag in 1988, the tour with Savatage in 1991 or shows closer to home, Little Devil where they already played 4 times before! From their first album "Soldiers of the night" (1986) and then with "Digital Dictator" (1988), the men led by Geoff Thorpe and Larry Howe are indispensable in the Power Metal Scene and certainly not in the BeNelux .
On Thursday the 12th of March 2020 it is the 5th (!!) turn of the Little Devil club in Tilburg to enjoy the band with now Nick Courtney on vocals. Nick was an American Idol participant who stood his ground with Iron Maiden and Judas Priest songs. One of the few metal singers who also survived round two there. Former Vicious Rumors singer Brian Allen introduced Nick himself after he could no longer be a band member due to other obligations. Nick, only thirty years old, brings the power, typical in the Vicious Rumors style, but more importantly, he "breathes in" Digital Dictator ".Band members: Geoff Thorpe (guitars, vocals), Larry Howe (drums, vocals), Gunnar DüGrey (guitars, vocals), Nick Courtney (lead vocals) & Cody Green (bass).
Last time the show was sold out within a few weeks so don't wait to long!!! The 5th time in Little Devil and (funny) the 5th time with a different singer 😉
Inspired by legendary pillars of heavy metal such as Iron Maiden, Judas Priest, The Scorpions, and Rush, this four-piece is well known for their energetic and electrifying stage presence, as well as intricate musical melodies that bring listeners back to a time when heavy metal was in its prime. Formed in Surrey, B.C. Canada, in June of 2011, the bands core members were Chris Osterman on guitar and vocals, bassist Leighton Holmes, and drummer Amanda Osterman, joined by Jordan Wright on guitar. This quickly changed, after recording their debut album 'Curse Of The Voodoo Queen' Jordan was replaced by guitarist Kenny Kroecher. 'Curse Of The Voodoo Queen' was released on Dec 14, 2011, and the band took the opportunity to tour western Canada, along with an appearance on the TV Show, Canada's Got Talent. With the debut album receiving little attention, the group decided it was time to record a new album, and by April 26, 2013, 'Gates Of Eternity' was released. Garnering some strong reviews coming in around the world, attention was growing, and the band was invited to perform at Germany's Keep It True XVII festival. This opened up many new avenues for the act to pursue, including some serious time on the road through Canada in 2013, Europe in 2014, followed by a tour in the USA with California's Night Demon. The band had created some major momentum and Iron Kingdom were spreading their moniker far and wide in support of the first two releases. On July 30, 2015 Iron Kingdom released not one but two more albums, 'Ride For Glory' their 3rd full length album, as well as 'Unleashed at the Kraken (Live in Seattle)' an exclusive live E.P. recorded on a previous tour. The band set out on the road again in support of the two new releases. The tour was unfortunately riddled with many trials, including a vehicle accident that almost killed the band members. Following the tour, Amanda decided to step back from the band to pursue other commitments. Joey Paul then took her place behind the kit. Life on the road continued, including a massive North American tour in 2016, as well as a tour in Brazil in a supporting slot for former front man of Iron Maiden, Blaze Bayley. After many performances, guitarist Kenny and drummer Joey departed, thus leaving the door open for Chris Sonea, and Megan Merrick, on drums and guitar respectively. With a new lineup and a new album on its way, Iron Kingdom will once again be ready to take the world by storm and aid in the revival of the mighty and classic sounds of Traditional Heavy Metal
Place; Little Devil, Stationsstraat 27, Tilburg, The Netherlands
Date: Thursday 12 March 2020
Doors: 19:00
https://www.littledevil.nl/wp-content/uploads/2019/11/MMM_ViciousRumors_banner_v01.jpg
533
1008
Jip
https://www.littledevil.nl/wp-content/uploads/2021/05/logoLittleDevil-1210x385.png
Jip
2019-11-16 18:07:26
2020-10-28 09:01:28
MMM: Vicious Rumors (USA) + Iron Kingdom (CAN)