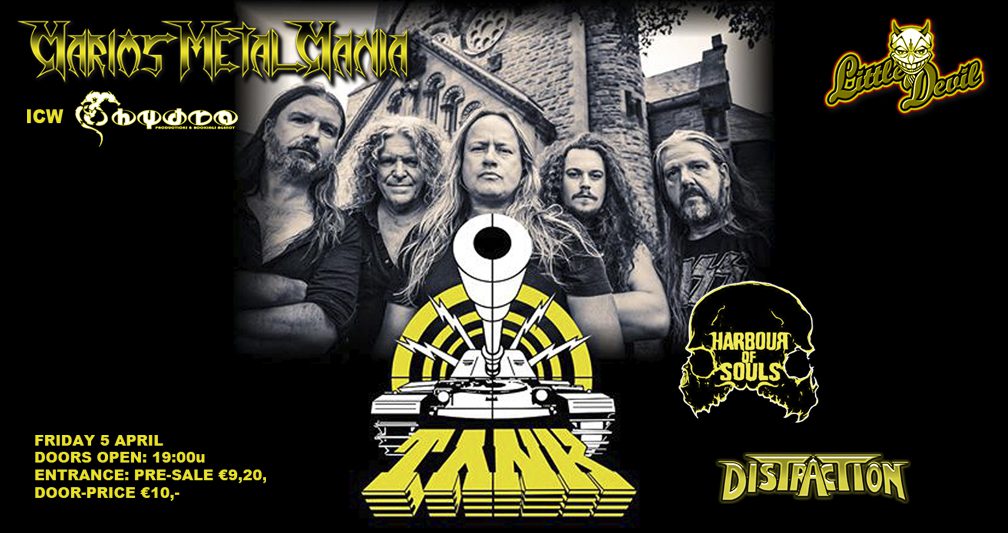 19.30u / heavy metal / presented by MMM / € 9,20 (pre-sale) / € 10,- (door)
TANK (UK): TANK has been a major force on the worldwide rock and metal scene since it's formation in 1980 by former 'Damned' bass player 'Algy Ward'. Starting with the band's punk influenced debut album ʻThe Filth Hounds of Hades' through to the 2015 metal epic ʻValley of Tears', the band has delivered some of the finest rock and metal music to come out of the UK over the past 3 decades. 10 Studio Albums, 2 Live Albums, Live DVD, Limited Edition Box Set CD/Vinyl. The band have toured alongside giants such as Motorhead and Saxon and were fortunate to be the opening act on the now legendary Metallica ʻRide the Lightning' tour across Europe in the winter of 1984. Most recent shows include opening for Judas Priest on their sold out ʻEpitaph' tour which was filmed and subsequently used in the band's very first DVD – TANK, War Machine Live! Upon it's release in 2012 it went straight in at Number 1 in the Metal Hammer Eastern European Chart and gained rave reviews in all the metal press around the world.
Several lineup changes have taken place throughout the years. One of the most significant being the addition of former Rainbow/Malmsteen vocalist ʻDoogie White' who joined forces with 30 year TANK veterans ʻMick Tucker' and ʻCliff Evans' in 2009. Doogie's vocal performance and writing skills on the ʻWar Machine' and ʻWar Nation' albums contributed in making them two of TANK's most successful albums and opened the door for the band to move forward into a new era. In 2013 a new vocalist was recruited to replace Doogie who was booked out on a world tour performing as vocalist with Michael Schenker's ʻTemple of Rock'. Original Dragonforce frontman ʻZP Theart' was asked to join the ranks for a summer of European festival shows and has now become a permanent member of the band's touring and recording line up. Completing the current line up are former Sodom drummer ʻBobby Schottkowski' and Blind Guardian bass player ʻBarend Courbois'. These guys are the ʻBig Guns' and have added real power and a whole new dimension to the sound and visual aspect of the band. The studio album 'Valley of Tears' was released worldwide on September 25th 2015 through Metal Mind Productions. In the summer of 2017 ZP Theart left the band to become the new vocalist for 90's rock legends 'Skid Row' and has been touring the world with them as well as performing on their latest studio album release. To replace ZP another heavyweight frontman was needed to fill his boots. After a lot of searching for the right voice the decision was made to bring in 'Pink Cream 69' vocalist David Readman. David's voice and attitude fit the band perfectly and along with new bassist, Randy Van Der Elsen, Tank are now in the studio recording their latest album and gearing up for touring in 2019. Well here they are! Finally in Little Devil!!!
HARBOUR OF SOULS (NL): Harbour of Souls, five guys that play classic hardrock-grooves with NWOBHM-elements. Started in 2010 as a studioproject of singer/allrounder Martin and he build this out to a real band who released an EP (Mountain of Fire, 2015) and played several gigs! Powerfull rock/metal in the vein of: Judas Priest, Iron Maiden, Black Sabbath, Thin Lizzy. Check them out!!!
DISTRACTION (NL): Born in the wrong year, but with their heart is in the right place. Their heroes are now retiring, but they are only at the beginning.
Paying homage to the hardrock of the 80s is now up to Distraction!  With influences from Ronnie James Dio, Axl Rose, Nikki Sixx, Eddie van Halen, Vinnie Appaci, … they guarantee a beautiful evening!
Fri 5 Apr
https://www.littledevil.nl/wp-content/uploads/2019/02/MMM-Tank-Banner-v02.jpg
533
1008
pieter
https://www.littledevil.nl/wp-content/uploads/2021/05/logoLittleDevil-1210x385.png
pieter
2019-02-26 17:53:34
2019-04-05 23:59:08
MMM Presents: TANK (UK) + HARBOUR OF SOULS (NL) + DISTRACTION (NL)