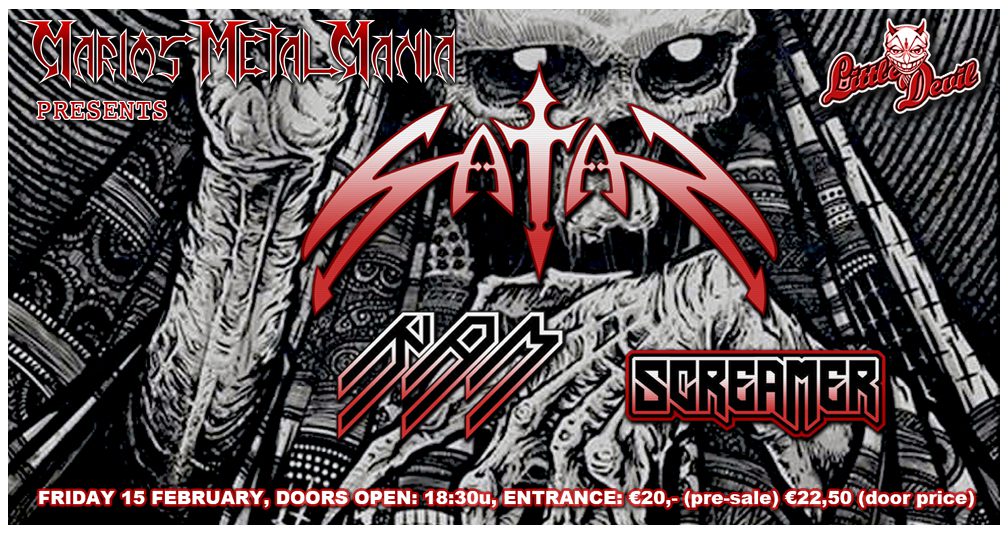 19u / heavy metal / 20,- / UITVERKOCHT / SOLD OUT
Tickets: https://shop.ikbenaanwezig.nl/tickets/event/satan-uk-supports
SOLD OUT!
SATAN (UK): After headlining the final (10th) edition of Mario's Metal Meeting in 2016 the band finally returns to the Little Devil!!!
While standard bearers of the NWOBHM movement and responsible for '83's seminal Court In the Act and '87's Suspended Sentence, with Cruel Magic Satan make it abundantly clear that in 2018 they are not interested in simply capitalizing on past glories. Comprised of 10 tracks of searing metal, it is blatantly and profoundly the work of the Newcastle upon Tyne natives at their very best, infusing their signature sound with a more raw, wild and spontaneous vibe than they showcased on 2015's mighty Atom By Atom, in the process displaying more passion and energy than slews of bands half their age. Having reunited in 2012 and returned to touring duty, Satan – comprised of six-stringers Russ Tippins and Steve Ramsey, bassist Graeme English, drummer Sean Taylor and vocalist Brian Ross – once more proved their collective mettle with 2013's Life Sentence and follow-up Atom By Atom, both records critically acclaimed and maintaining the high standards of their earlier releases. "I'm particularly proud of what we did with Atom By Atom, the progression we made from Life Sentence" says Tippins, who asserts that they knew they had penned the best song of their career with "The Fall Of Persephone", while the title track and the album's powerful cover art meditate on living through the deterioration of a loved one through dementia. "I think we all know how it feels to lose someone close, but to witness a person you know disappearing 'head first', losing their knowledge, memories, everything that makes them the person they are, that is something else." With such a powerful collection in their hands the band were unsurprisingly eager to take it on the road, and they once again had successful tours and festival runs in Europe, North America and South America, culminating with a slot opening for Pentagram in Helsinki, which Tippins counts as a true honor. Soon enough, the itch to be making new music prickled at the members, workaholic Tippins in fact recommencing writing almost as soon as they completed Atom By Atom, and they began to work on the material that would ultimately comprise Cruel Magic. "We don't record a ton of material then pick out ten songs for the record. We vet it as we go until we can't imagine it being any better, and it's not about just adding to the pile. We quite often shorten or cut out whole sections if they aren't earning their keep, so to speak." Content-wise, they did not enter into the process with a definitive plan for the album, however, from the start the members knew how they wanted to record it and the overall vibe they wanted to capture. This was in a large part informed by the band increasingly finding themselves turned off by overly polished modern metal records. "I've arrived at a point where as a music consumer I'm no longer as impressed as I used to be by speed, technique, control, heaviness, tone, flawless production and excessive bottom end! These days any band can – and does – achieve all of that, and as a listener I feel like I'm being backed into a corner by five guys flexing their fucking biceps in my face. Everything seems to be a display of strength. Sound and fury signifying nothing." While such records are the typification of sterile performances and recording techniques, Satan are aware that Court In the Act exists at the polar opposite end of the spectrum, and is beloved over and above all other Satan releases despite – and perhaps even because – of its "chaotic production, at times shambolic performances, and the naivety of the bloody lyrics!" It was, therefore, something of a revelation to the guitarist when he sat down and played the recent vinyl reissue of that album, and rather than experiencing the inward cringing he has long associated with listening to their many 'mistakes', he found himself inspired by what was pumping from the speakers. "If anything it seemed more interesting because of the fuck-ups and lack of production – drums and guitars played with reckless abandon, ambitious runs and fills that nearly worked but didn't, first takes that were kept simply because we made it to the end of the song. There's something intangible in there, an energy which is missing from those other qualities I mentioned. So, it got me thinking that whatever music we came up with for the next record, when it came to actually recording it we'd make a conscious effort to go for first takes, no matter what fuck-ups/jazz crimes had been committed." Exposure to the record makes the fact that they have placed passion first and foremost exuberantly clear, the energy of the performances tied to their unique style of songwriting doing all of the talking. "So here's the news: You are going to hear mistakes on the new Satan album, some of them pretty clearly if you listen for them, but like us, I believe you'll be too swept up in the excitement to care." Represented both lyrically and in the record's artwork, Cruel Magic stands as "a personification of injustice in our world. Anyone who knows us knows we never sing about the Devil except in the most abstract terms. That said, we have no interest in light-hearted subject matter either. You will never hear the words 'rock and roll' in a Satan song, nor any references to sex, drugs, fast cars or motorcycles. But, generally bad things that happen in the world, real or imagined, and injustice in particular, has always been a big part of what drives us to write lyrics." Responsible for bringing the artwork for Life Sentence and Atom By Atom to life, artist Eliran Kantor – who has also collaborated with the likes of Iced Earth, Testament and Kataklysm – once again contributed Cruel Magic's striking visuals, though in a manner that the members did not expect – to their delight. "The strangest thing happened – he ended up going in an entirely different direction to the lyric we'd written for the song "Cruel Magic". So the title 'concept' of Cruel Magic has another meaning to the song, and once again he has come up with a disturbing and quite jarring piece of art. Maybe the most controversial cover we've ever had, but utterly brilliant." Tracking the album at First Avenue Studio in Newcastle upon Tyne, they further demonstrated their trust and rapport with past collaborators, recruiting engineer Dave Curle and Dario Mollo to handle the mix, letting them handle the technical side of things so the quintet could focus all of their energies on giving the best performances. Confident in the songs they had written and how they wanted them to sound made the process a very easy one, walking out of the studio with a record of which they are understandably proud, and will reign supreme in the speakers and headphones of metalheads the world over when it drops in Septmeber 2018. "I truly feel we've got it 100% right this time, the balance between considered content and reckless performance. We always break loose on stage so why not on record?"
RAM (Sweden): After co-headlining the first edition of Mario's Metal Meeting in 2007 the band finally returns to Tilburg!!
RAM was created in 1999 by Harry Granroth, who wanted to form a real, true heavy metal band; he was sick of the misinterpretation of metal that ruled the scene at the time, and had a pile of material that he wanted to bring to life. He soon found Daniel Johansson, a young but experienced and very talented guitar player who wielded a traditional metal guitar style. The two started working on some of Harry's earlier material and began to write new songs. After a long and tiresome search, Harry then found Oscar Carlquist; a powerful heavy metal vocalist with a mutual hatred for the current metal scene. Oscar quickly became involved in the song-writing process and crafted interesting lyrics to accompany the music. The backbone ofRAM was formed. Oscar brought in drummer Morgan Pettersson, one of the few drummers left who still played the 70/80's hard and heavy drumming style. They then recruited the legendary Leif Larsson, an icon in Gothenburg metal as he had previously been a member of Frozen Eyes. The five members started to rehearse and write new songs, and in 2003 they released their first EP, Sudden Impact, through partly their own label "Black Path Metal Recordings". The EP created an immediate impact on the underground metal scene; the first 1000 copies were sold out in a few months. RAM hit the road and played a number of festivals in Europe and went on tour as support for Sebastian Bach. The band was also recognized by Germany's Rock Hard magazine as one of the best newcomers of 2004. RAM kept on playing live throughout most of '05 and started working on their full-length debut album Forced Entry, which was released in late 2005. Forced Entry brought the entire old school heavy metal community to its knees. The album is a pure sonic attack of real and innovative heavy metal. Great reviews followed and the band grew even bigger. In December '05, RAM hit the road with Dark Tranquillity, and in Jan '06 they performed at several Scandinavian shows with Gamma Ray. Playing live is what RAM does best and in 2006-2007, the band delivered a devastating metal crusade over Europe. Reaching places such as Greece for the first time and Spain for the second time, the Teutonic hordes went wild. In the summer of 2007, bass player Leif Larsson was asked to leave the band due to personal differences and Tyrant of the Black Metal ultra cult act Nifelheim answered the call and joinedRAM as a session bass player. In 2008, the band returned to the studio with producer Johan Reivén to record the album Lightbringer. This time they really took the time to explore the true heavy metal sound. The recording of the album took 10 months of nothing but strife for pure heavy metal perfection. In 2009, RAM signed a deal with AFM records and released Lightbringer, which received very good reviews. It landed a spot as one of the best albums of 2009 in Sweden Rock magazine. The band also headed out on headline European tour to promote the album. Tobbe Petterson joined the band and through his amazing bass skills made this the strongest RAM lineup ever. In 2010, RAM began recording their 3rd full-length album entitled Death. The album was produced by Per Stålberg and Olle Björk. In 2011, they signed a worldwide deal with renowned label Metal Blade Records and Death was released in January 2012. RAM hit the road in support of Death returning to Spain, visiting Portugal for the first time, plus Germany and Sweden. In June 2013, Daniel Johansson decided to quit the band due to personal reasons. Daniel was quickly replaced by guitarist Martin Jonsson from Gothenburg who brought a new dimension to the band with a deadly shredding guitar style. On September 13th, 2013, RAM celebrated the 10th anniversary of the release of the Sudden Impact EP with a special concert in Gothenburg, the first decade of Heavy Metal Tyranny was complete! RAM continued to destroy stages through the spring of 2015 all over Europe, then they once again entered the studio to record their fourth album. Svbversvm was another step upon the Black Path that is RAM's career and showcased yet another dimension of RAM's song-writing and muscianship. Svbversvm recieved amazing reviews and appeared on many best album of 2015 lists in the rock press. RAM supported the release with another tour and several festival appearances. In the spring of 2017, RAM entered the studio once again to record their 5th full-length studio album Rod. This album is the first RAM album to feature a concept story consisting of 6 songs that account for the entire B side of the LP. RAM are confident that once again the reviews will be through the roof and look forward to conquering new territories and fans while on yet another crusade of HEAVY METAL TYRANNY!
SCREAMER (Sweden): this will be the 4th time Screamer returns to Little Devil!!
Since the start in 2009, a lot of water has passed by under the bridge for SCREAMER. The band started out as a four-piece and within months a demo had been released and already gotten national radio air time with "Can You Hear Me", which opened the first doors for the band. In 2011 the first album "Adrenaline Distractions,, was released on German label High Roller Records and the reception of both fans and press was, at this time for the band, immense. Quickly the band managed to make a small name for themselves, and opportunities to perform abroad was now offered at a wide extent. After doing numerous smaller tours down to the continent, BULLET, from the neighbor city asked SCREAMER to join them on the "Full Pull Tour,, in 2012, which opened even more doors. This just before the sophomore album, "Phoenix" , was released in early 2013, again on High Roller Records, and wheels kept on turning. During 2012, 2013 and 2014 the band performed on more or less all of the smaller, and
biggger, festivals in Sweden and Germany. During these years the band performed about 200 shows both in Europe and in Canada. In early 2014, singer and bass player Christofer Svensson left the band, just before the band was supposed to play Up The Hammers, Muskelrock, Rock Hard Festival, Metal Frenzy, Summer Breeze, to mention a few and the band had to find a temporary singer for the summer in Night's singer, Burning Fire. In late 2014 the band got in touch with the voice of the true North, Andreas Wikström, born and raised in the land of the midnight sun – Umeå. Without further hesitation, he was asked to join the band alongside with bass player Fredrik Svensson Carlström. The band stayed off the roads for a few years, working on the third album, "Hell Machine,, which eventually, once again, got released on High Roller Records in early 2017. Fans and press all welcomed the new line-up and the band is now firing on all cylinders, like never before! 2017 meant a lot of shows, festival headlines and a greatly succesful tour with Canadian hard rocking friends in Diemonds , as well as the start of their very own festival in their home town, Ljungby, simply called "Turbo Fest,, featuring bands such as Air Raid, Stormhold and Ambush besides SCREAMER, on the very first edition. For the 2018 even more friends joined in, and Hällas, Dead Lord, Visigoth, Armory, Odult as well as Swedish heavy metal pioneers Mindless Sinner all joined forces in the name of the heavy metal rockin' underground! In 2018, SCREAMER are performing their last two legs of the "Hell Machine Tour,, by once again joining forces with their brothers in arms, Bullet for their album release tour in May 2018, as well as yet another European tour in September, and going out with a bang with their first-ever US appearance in California on the 2018 edition of FROST AND FIRE, where they are playing on the same day as Ventura legends Cirith Ungol, and their first-ever show in Tokyo, Japan at the Japanese Assault Fest in November. 2019 means new releases for Screamer, and the schedule is already getting packed – don't miss out.
 Tickets: https://shop.ikbenaanwezig.nl/tickets/event/satan-uk-supports
Place; Little Devil, Stationsstraat 27, Tilburg, The Netherlands
Date: Friday 15 February 2019
Doors: 18:30
€ 20,- presale
€ 22,50 doorsale
Fri 15 Feb
https://www.littledevil.nl/wp-content/uploads/2018/12/MMM_Satan-Ram-Screamer_FBheader_v01.jpg
533
1008
pieter
https://www.littledevil.nl/wp-content/uploads/2021/05/logoLittleDevil-1210x385.png
pieter
2018-12-09 15:23:37
2019-02-15 23:59:01
MMM Presents: SATAN (UK) + RAM (Sweden) + SCREAMER (Sweden)