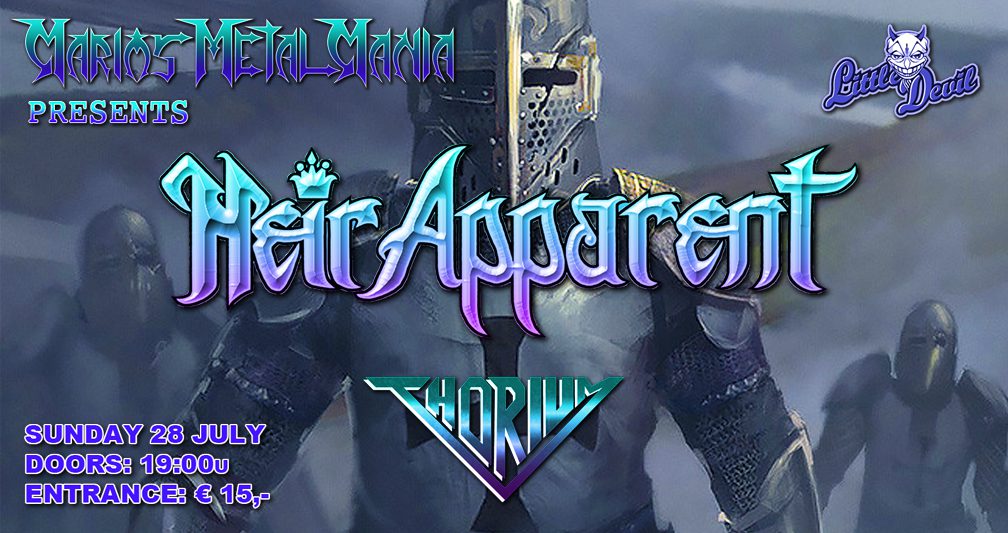 19u / presented by MMM / heavy metal / €15,-

HEIR APPARENT (USA): HEIR APPARENT was formed in 1983 in Seattle, Washington by guitarist Terry Gorle. Vocalist Paul Davidson, bassist Derek Peace, and drummer Jim Kovach joined with Gorle to form Heir Apparent's original lineup. In July 1984, the band entered Triad Studios in Redmond, WA to record a 5-song demo that received local airplay on KISW and KZOK. A month after recording their first demo in 1984 Jim Kovach was replaced by Ray Schwartz (using the name Raymond Black). This lineup recorded Heir Apparent's debut studio album Graceful Inheritance. The album was released for European market in January 1986 by an independent French label Black Dragon Records. Supported by UK's Metal Hammer magazine, Heir Apparent toured France, Netherlands, and Germany in May and June 1986, originally as support act, but ending as headliner on tour with Savage Grace. The album received very positive reviews from several European metal magazines, including Germany's Rock Hard, whose editors gave it the rating of 49/50 points in the February 1986 issue, placing Heir Apparent's debut above the albums released by such acts as Overkill, Anthrax, and King Diamond, among many others reviewed that month. Encouraged by good sales, Black Dragon re-released the album in October 1986, this time on CD, making it one of the first CD's released by an independent label in Europe. Despite this extensive praise, Graceful Inheritance was never released in the US, the group's home country. In addition to remaining the highest rated album in the 30 year history of Germany's Rock Hard magazine, "Graceful Inheritance" was ranked #188 in the German hardcover book "Best of Rock and Metal – Top 500 albums of all time", published in 2005, ISBN 3898805174.
Following the departure of lead vocalist Paul Davidson in 1987, Steve Benito took over the singing duties. Also, Heir Apparent's lineup was changed into a quintet, by adding a keyboard player Mike Jackson. The new lineup recorded Heir Apparent´s second studio album One Small Voice, which marked a musical shift towards the more technical sound of progressive metal, compared to the traditional heavy and power metal style of the previous release. In the summer of 1988, Heir Apparent had their first large arena performance, serving as an opening act for David Lee Roth, in the Seattle Center Coliseum. Soon after that, the band had signed a seven album contract in 1988 in a joint venture with Capitol Records/Metal Blade, but suddenly dissolved even before the official release of One Small Voice in June 1989. Without a concert support, and with the emergence of grunge in the Seattle area, the second album didn't reach the debut's underground success and critical acclaim until many years later, compelling the Greek label Arkeyn Steel Records to release a digitally remastered limited edition of "One Small Voice" with bonus tracks and a live DVD from a 1988 concert video of this lineup in 2010.
The Germany's label Hellion Records released the Triad demo compilation album in late 1999, along with the re-issue of the band's first album Graceful Inheritance. The band stayed inactive until 2000 when guitarist Terry Gorle was invited to perform at Wacken Open Air festival. Gorle reunited with the original rhythm section of Ray Schwartz and Derek Peace, with addition of Michael James Flatters on vocals. Following that comeback performance, Terry Gorle led several different lineups in concerts between 2002 and 2004. The 2004 lineup of Terry Gorle (guitar), Bobby Ferkovich (bass), Op Sakiya (keys), Jeff McCormack (drums) and Peter Orullian (vocals) reunited to perform in Europe in November 2006, headlining Germany's Keep It True festival, and two additional shows in Greece.
In January 2012, Heir Apparent's original musicians (Gorle, Schwartz, and Peace) performed with Jeff Carrell on vocals at the Metal Assault II Festival in Germany, with additional concerts in Athens and Thessaloniki Greece in celebration of the 25th anniversary of Graceful Inheritance.
The band has performed several festival concerts in Europe between 2015-2016, with new festivals in 2019 in support of their new album. The current lineup is Terry Gorle, Ray Schwartz, Derek Peace, Op Sakiya, and Will Shaw (also Ayreon). The band released a new album last year which got GREAT reviews worldwide!! This line up is their best so far!! Goosebumps all over; believe me!!!
THORIUM (Belgium): Given great incentive by their work together in Belgium's legendary Heavy Metal band Ostrogoth, axemen Dario Frodo, Stripe and Tom Tee found themselves overwhelmed by massive amounts of inspiration for new material, much of which proved to lie too much outside the boundaries of what they could rightly realize with Ostrogoth. Therefore, they decided to found a brand new formation through which to channel all these new ideas. With the addition of classically trailed batterist Louis Van Der Linden to the fold, the search was open for a powerful vocalist with a wide range and striking stage presence, which they found in seasoned Dutch singer David Marcelis (Lord Volture, Black Knight). With the line-up complete, the band put the finishing touches on their debut album, which is set for release autumn 2018. Influenced by and incorporating elements of all the classic styles of Metal from the past four decades, such as NWOBHM, Power Metal, Progressive Metal, Speed Metal, Bay Area Thrash and of course classic Heavy Metal, Thorium's members set themselves no boundaries and seek to deliver music that is heavy, melodic, virtuosic, catchy and conceptual. The band already prioved their quality during their supportshow for Q5 last year!!!!
Sun 28 Jul
https://www.littledevil.nl/wp-content/uploads/2019/04/MMM_HeirApparent_Banner_v01.jpg
533
1008
pieter
https://www.littledevil.nl/wp-content/uploads/2021/05/logoLittleDevil-1210x385.png
pieter
2019-04-24 14:52:27
2019-07-28 23:59:02
MMM Presents: HEIR APPARENT (USA) + THORIUM (Belgium)