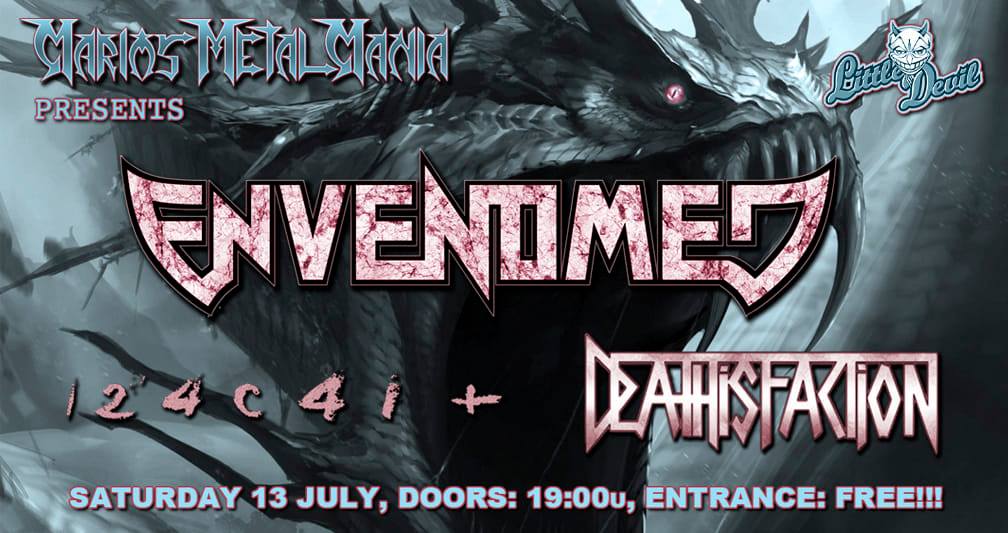 19.30u / melodic thrash metal / atmospheric doom / presented by MMM / gratis

With the release of their debut "EVIL UNSEEN" under their belt and a rapidly growing fan base, ENVENOMED have hit the ground running showcasing to the masses their unique brand of traditional melodic heaviness, with a modern twist!
Combining the riff heavy elements of Megadeth, Metallica and Testament with the expansiveness of Iron Maiden and Symphony X, the band's first full length offering has received unanimously positive reviews from metal media all over the globe!
Having being pegged in several Australian & International nominations for last years top 10 Heavy albums, keep an eye on ENVENOMED for Detonation . . .
124C41+ is an artistic project that focuses on the effort of the four members (Mattia Laureti – Voice, Piano; Leonardo Tommasi – Guitar; Leonardo Carloni – Drums; Omar Cheikh – Voice, Bass)
in the creation of shared imagination, including different approaches, such as music, narrative, poetry and illustration.
This approach to their art allows them to get rid of any creative restriction, in order to give to every release uniqueness concerning experimentation and sound research.
This method allowed them to play in any thinkable situation: small local stages, festivals outside Italy and theatres.
124C41+ sound is characterized by the reworking of different music genres such as black-gaze, drone/ambient, atmospheric doom and screamo.
They are founding members of AUGEN, LICHT collective, a community of artist including John Malkovitch!, XIX, Au-delà du soleil noir and Rea.
Deathisfaction is a Thrashmetal band from the Netherlands who like to involve different styles. In 2012 we started this band because of our passion for thrashmetal. In 2016 we closed the Deathisfaction chapter because we had other musical visions. After almost 3 years we are back with all visions on the same direction. We are harder, darker and faster. A more modern style of Thrash.
Sat 13 Jul
https://www.littledevil.nl/wp-content/uploads/2019/06/envenomed.jpg
533
1008
Jip
https://www.littledevil.nl/wp-content/uploads/2021/05/logoLittleDevil-1210x385.png
Jip
2019-06-20 17:43:27
2019-07-13 23:59:06
MMM Presents; ENVENOMED (AUS) + 124C41+ (It) + DEATHISFACTION