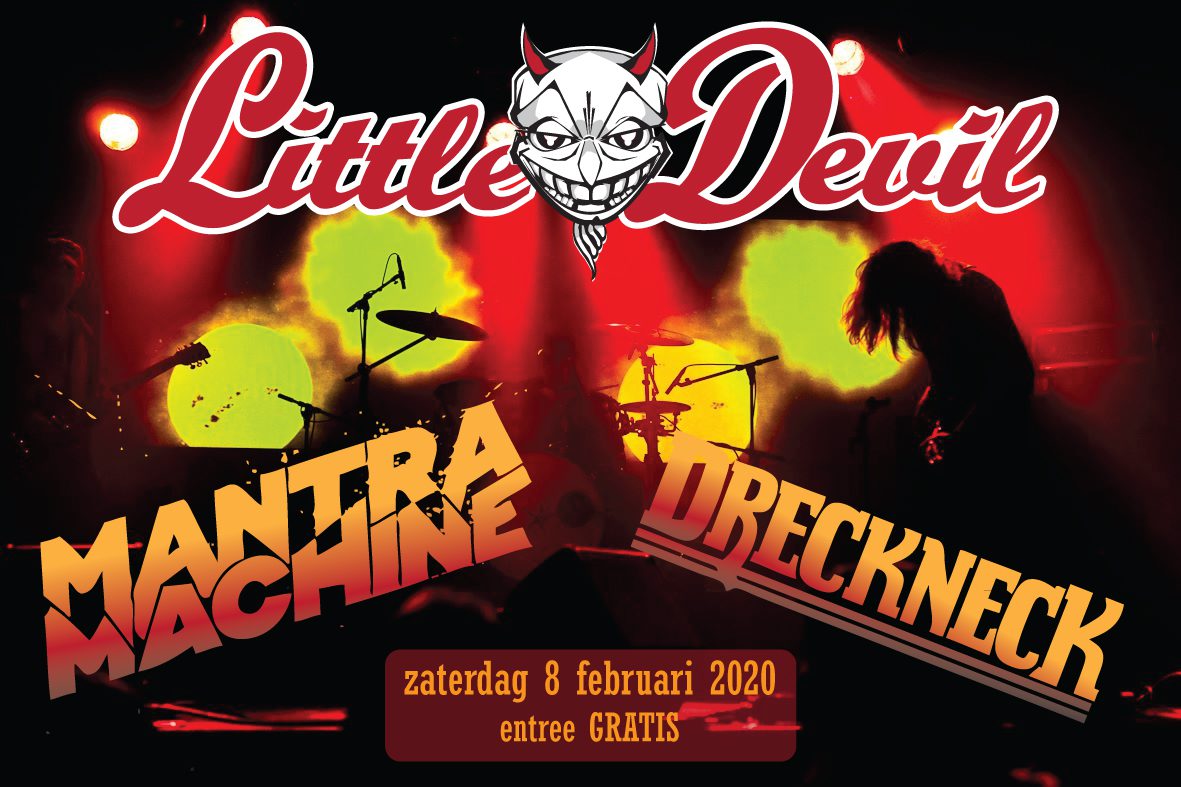 20.30u / psychedelic rock / stonerrock / Fleur's birthday bash / open
Influenced by the likes of spacerock and psychedelics, Mantra Machine is set out to reach new audiences with a mix of heavy guitars, shimmering bass and grooving drums, soaked in 'mantra style' instrumental synth soundscapes.
In 2012 they debuted at the Sonic Rock Solstice festival in England and released their first EP 'Stage One'. Among other gigs they were invited to play at Mudfest III (2013).
They recorded and released a first full-length album called 'Nitrogen' in December 2014. Short after the release the album was placed on the Dutch music site 3VOOR12 Luisterpaal and also was released on vinyl.
In 2016 they where invited to play at Roadburn in Tilburg, played at Yellowstock in Belgium and did a minitour through Germany and Austria. Currently they are working on the release of their second album.
Dreckneck was founded in November 2015, in a pub in Eibergen, The Netherlands, when Harm and Gijs decided it was about time to play some solid Rock music. Obviously, every real band needs an awesome drummer, so Tinus joined as the third band member. Soon thereafter, the first fuzzy chords were struck in a small shack on a farm, just yards away from the German border.
In April 2017, the band released their first EP "Dreckneck," which is influenced by Stoner, Doom and Heavy Blues. The album "Dirty Habits (Rule us All)" came out in October 2018, and contains eleven tracks of thick and solid rock, with a little soft touch every now and then. After the release of the single "She's Mine" in March 2019, the band continued playing shows and writing material for a new full length album, that will be released in 2020. In the summer of 2019, Jip Oude Breuil joined Dreckneck as a second guitarist. Expect a fatter and more dynamic sound!
Dreckneck is suitable for headbangers, as well as people who like to move their feet. If you like bands such as Kyuss, Orange Goblin and Queens of the Stone Age, there's no reason not to check out Dreckneck!
https://www.littledevil.nl/wp-content/uploads/2020/01/08022020.jpg
787
1181
Jip
https://www.littledevil.nl/wp-content/uploads/2021/05/logoLittleDevil-1210x385.png
Jip
2020-01-20 23:42:58
2020-02-08 23:59:03
Mantra Machine + Dreckneck