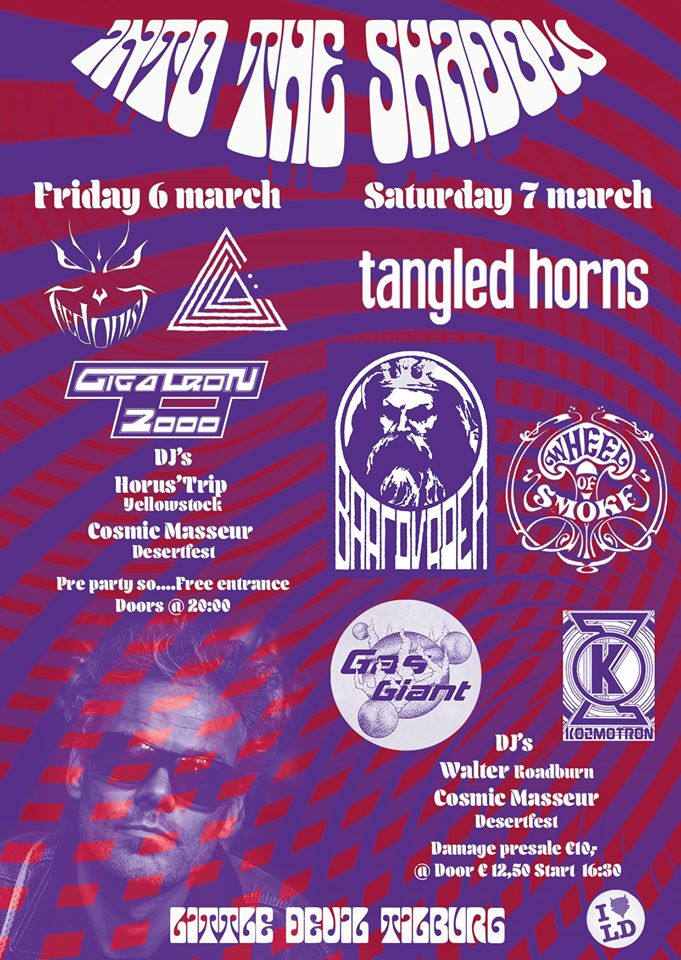 20u / festival /stoner rock / space rock / heavy psychedelic rock / doom/ gratis

Ramon presents Into The Shadow
Een tweedaags festival om zijn 50 ste verjaardag te vieren. Hoe en waar anders dan met een
mooie selectie uit zijn favoriete bands in de Little Devil. Vrijdag 6 maart 2020 een Pre-party
met 3 bands en zaterdag 7 maart 2020 een programma met 5 bands.
(BE)
Hedonist, a hard rockin', hard groovin' power trio from Genk, formed in the summer of 2010
when Roel Paulussen (Sardonis, Solenoid, Barabbas) and Frederik "Cozy" Cosemans
(Serpentcult, Hemelbestormer, Death Penalty) decided to have a few jams together. Riffs
and songs kept pouring out and soon a third party jumped on the train to wreak havoc upon
the land. The thunderous bass and roaring vocals of Frank "Frenz" Homolka (Solenoid, The
Killbots) were the perfect fit for Cozy's maniacal beats and Roel's neckbreaking axework and
so the "power of three" was complete.
On their first release, a split with stoner/sludge giants Your Highness, Hedonist delivered an
exciting, energetic and compelling mix of Motörhead, High On Fire, Karma To Burn and
Monster Magnet that suckerpunched audiences straight in the face. No nonsense, no
bullshit, no fancy gimmicks, just pure, honest, kick-ass rock-n'-roll.
In the year 2016, the time came to release the equally staggering full length "The Collapse".
Once again recorded at Studio Jonathas under the watchful eye of Xavier Carion (ex-Channel
Zero, Sons Of Jonathas, …) "The Collapse" is nothing more than the equivalent of a battering
ram. From the pounding opener "The Urge", to the monstrous sludge assault of "Black
Lungs" (featuring Ben from Your Highness on vocals) and the swampy, bluesy heaviness of
"Beecher", Hedonist simply goes all the way on this one. Thirty-seven minutes of sheer
rockin' mayhem coming your way. All killer, absolutely no filler! So brace yourself, open up a
cold one and join the fun 'till you… collapse!
(NL)
Ggu:ll is het voertuig van de verlorenen. Een manier om in de lege oogkassen van het lijden
te staren en het gebrek aan duiding, betekenis en grond te verdragen. Het verdragen van
nederlagen en verlies. Het is een haven voor zij die schreeuwend ter wereld komen.
Eenzaam terugkerend, zichzelf hervindend in het soelaas dat het gezelschap van hun gelijken
brengt. De eenzaamheid delend van de angst van het in-de-wereld-zijn.
De woestenij is groot en groots. Een verwrongen vlakte, waar pogingen tot vergezichten en
verlichting verzanden in het bestuderen van je eigen schaduw. Het verzengende licht is de
rug toegekeerd. Schreeuwend geworpen, bij de éérste ademteug maken wij ons kenbaar.
Veroordeeld tot het bestuderen van de eigen schaduw, richten we ons op het duister.
Verloren.
(NL)
Gigatron2000 is een Tilburgs driekoppig monster dat zwaar groovende, instrumentale
stonermetal speelt. De band heeft veel live gespeeld, met bands als Herder, Mantra
Machine, Obelyshkk, Neeva, Komatsu en Black Capricorn en heeft diverse festivals omver
geblazen, zoals Mudfest, Woolstock, Rodeofest in België, Duzenos fest in Litouwen, Black
Chrome in Duitsland en Doom over Karalis in Sardinië. Gigatron2000 staat bekend als een
ijzersterke live band.
Het debuutalbum 'The Cosmic Desertcruise' is op tape uitgebracht door Tartarus Records,
deze was in een week uitverkocht. De cd versie is door de band in eigen beheer gedaan en
de 500 exemplaren zijn ook uitverkocht. Binnenkort komt het tweede album "The Witch of
Neptune" in eigen beheer op vinyl uit.
https://www.littledevil.nl/wp-content/uploads/2020/01/88130745_1306181846247001_1342182549924872192_o.jpg
960
681
Jip
https://www.littledevil.nl/wp-content/uploads/2021/05/logoLittleDevil-1210x385.png
Jip
2020-01-14 12:17:58
2020-03-07 00:00:14
Into The Shadow: Gigatron 2000 + Ggu:ll + Hedonist (B)