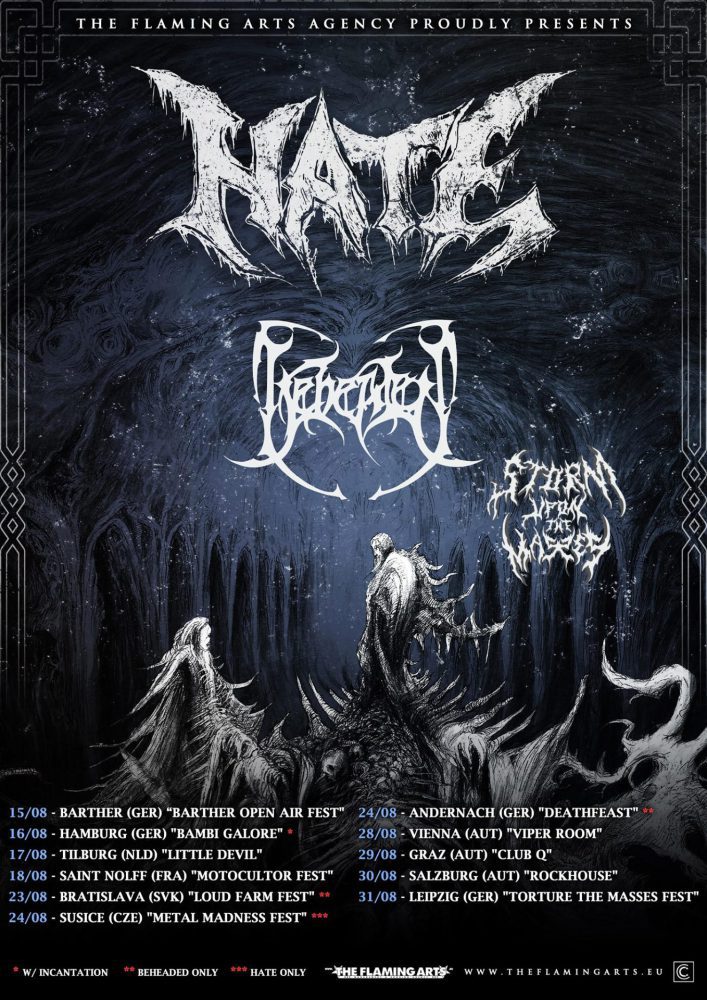 21u / extreme metal / death metal / € 8,50 (vvk) / € 10,- (door)

Hate has consistently been one of the top billed bands stemming from the powerful Polish Extreme Metal movement. But Hate's story from their very early days has never been a simple one. From the early days of Daemon Qui Fecit Terram and Lord Is Avenger, the journey has been to digest the world around and attempt to break bread with a reality wherein there are no restrictions. Where there is no ground to keep you grounded and no church to keep you unthinking and busy. The first two albums, joined by the third, Cain's Way, carried the band through the 90's, wherein they made a name for themselves both in the national underground and abroad.
Releasing their fourth record, Awakening The Liar, in league with the fabled French record label, Listenable Records, was an important milestone in more ways than one. It showed Hate's character as a band in the sense that it was a very different affair from all three records that came before it. Cleaner perhaps, but also sharper, more dexterous, the band adapted over time to their own developing sensibilities and marked a clean-cut distinction. Hate wasn't, isn't, and won't be, a band afraid to take their sound to a new place. To explore new ideas.
This notion was further cemented with the release of Anaclasis: A Haunting Gospel of Malice and Hatred. A powerful testament to a different period in the band's journey, this 13 years old record is still held by many as one of the classics of the second era of Hate. This era was marked with versatility and a rise in prominence that has not halted to this day. It was here that the band began to reap the fruits of their international popularity. Hate was now unleashed upon the pond of the world. Their 6th and 7th releases, Morphosis and Erebos respectively, saw them touring the USA with such giants as Sepultura and Mayhem, as well as touring Europe and South America with Rotting Christ, Vader, Hypocrisy and many others.
These happenings soon culminated with Hate's signing to the Austrian label and Metal powerhouse, Napalm Records. Soon thereafter, Hate released their first opus in this new environment in the form of Solarflesh: A Gospel of Radiant Divinity. Solarflesh was everything a fan of the band could have wanted and more. The record showed not only aggressive and abrasive music, but music that managed to fully engulf the ideas behind the songs. The silent choking of hopelessness, the majesty of death and catharsis combined into an understanding of the void.
But tragedy struck the band seemingly out of nowhere, and this ascension was brought into a very painful halt. The band's bassist of five years, Sławomir "Mortifer" Archangielskij, passed away in his sleep on April 6th 2013, only four days before what would have been his 28th birthday. The band was distraught, not only have they lost an important component, but also a great friend who's shadow and spirit still lives on in the band to this very day. A few months later, joined by current drummer, Paweł "Pavulon" Jaroszewicz (Vader, Decapitated, Antigama, guest work in Lamb of God, among many others), Hate released their grief into music, and spawned the album Crusade: Zero. The album offered an interesting, at times beautiful, at times saddening, view into the madness which is dealing with the death of a young, close friend. And out of death, came life, and with the leaving of Konrad "Destroyer" Ramotowski (guitars), the second era of Hate was sealed, but the third has come to be.
Tremendum was released on the 5th of May, 2017, and it was, again, a game changer. The album saw ATF Sinner (vocals, guitars) utilise the dark aspects of the mystic and arcane Slavonic folklore to explore themes both personal and impersonal. It is an album that is relatable at first listen, but that is hard to fully know. Reviewers and fans alike praised Tremendum for not only demonstrating that Hate know exactly how to create lacerating and dark music, but that the album does justice to topics and themes not normally drawn upon in the realm of Death Metal.
With Tremendum, ATF Sinner looked both inwards and outwards to create a piece that not only resonated with his own background, but that sought to further unearth what lies in the pages of Slavonic Pagan lore. He drew upon the works of such scholars as Czesław Białczynski, among others, to try and piece together a coherent understanding rather than a coherent narrative. Less so about who did what and why, but more about how to see and process through pagan eyes. How to interpret the world around him, essence and stone, through the eyes of an ancient culture that laid the foundation to so much of the Eastern European character. If one were to lift the veil of Christianity, Catholicism and the Eastern Orthodoxy.
In 2018, we find Hate as ever, advancing. In preparation for what might be their most fruitful endeavour so far, Hate has chosen to collaborate with the home of American Metal, Metal Blade Records. Toe to toe with such legendary acts as Behemoth, Mercyful Fate, and Amon Amarth, Hate is seeking to cement itself in the stomping grounds of giants. Having released snippets of what's to come with the "Path to Arkhen" demo-track and a preview of "In The Shrine Of Veles," it can be said with some certainty that Hate isn't a household name just in Poland, but an important part of the framework of global Extreme Metal. Work on the upcoming album – slated for a 2019 release – is well underway, with more details coming soon.
Beheaded rolled into life in 1991 with Malta as a backdrop to its caustic roots of death metal. Drawing inspiration from death metal hailing from Europe and the US back then and diving head on in the tape trading, zine, snail mail networks, Beheaded furnaced its demo Souldead in 1995. Statement made. European and worldwide record deals preceded the final cementation of the band as a placeholder in the extreme music scene. With six official releases under its belt, respect was gained through the energetic live set tying its relentlessness to its pure death metal inner sanctum. Several tours and Festivals in Europe, US and Asia have channelled this thick skinned aural punishment to crowds all over bringing more devoted followers in this death cult. Years ahead have taken the tinge of freshened vigour – this beast is ready to deliver death metal of the highest caliber. The horror breathes and death is coming!
Storm upon the masses is a deathmetal band from Zonhoven, Belgium
Joining forces are Brecht, Jurgen (both Crawlspace), Tom (Fractured insanity), Sandro and Bart (Ill fares the land/Gorath).
Influenced by deathmetal gods like Krisiun, Nephast, Origin, Suffocation, Vader,… the band brings a salute to pure deathmetal without any compromises or modern trends.
March 2015 saw the release of our selfmade EP "Vengeance of Madness" on which mixing and mastering has been done by Stephano Morabito at 16th cellar (Hour of penance, Fleshgod apocalypse,…) and the artwork was done by Marc Cooper.
The debut album "The ones who came back" will be released march 23rd on Dolorem records and Season of mist worldwide.
Sat 17 Aug
https://www.littledevil.nl/wp-content/uploads/2019/06/hate_beheaded-1.jpg
1000
707
Jip
https://www.littledevil.nl/wp-content/uploads/2021/05/logoLittleDevil-1210x385.png
Jip
2019-06-05 13:46:09
2019-08-17 23:59:24
Hate (POL) + Beheaded (MLT) + Storm Upon The Masses