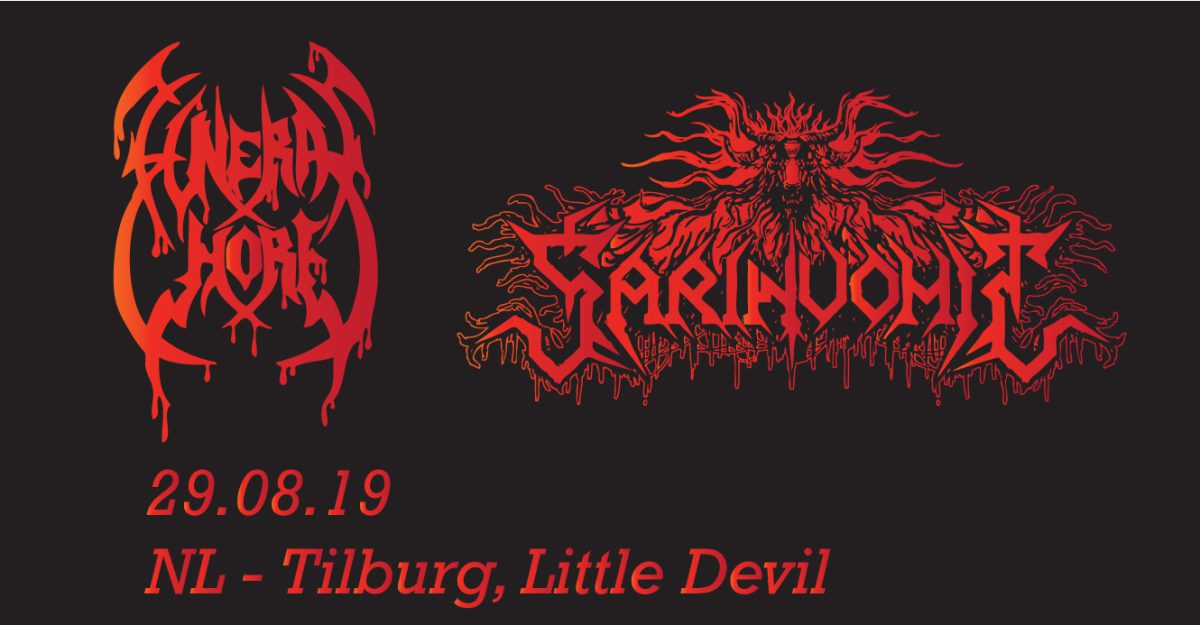 20u / old school death metal / black-thrash / gratis 
Funeral Whore was created in 2006. The first official release of material throughout a records label (Godeater Records) was made in 2010 on pro-tape. Also a "7 inch split was released with Profanal from Italy through Blasphemous Art & Unholy Domain.
In 2011, the first full length album was released worldwide through Chaos Records (Mexico). Now Funeral Whore has signed with FDA REKOTZ! In 2016 the 2nd full length was released via FDA REKOTZ and shortly thereafter the split with Bloodfiend from Argentina. This split in cd format was released by Disembodied Records. The death metal extremists are now franticly work out new material. Book the death metal menace IF YOU GOT THE BALLS!!!
Necrosemen of Sarinvomit was embodied in the filthy streets by barbaric demons of Godslaying Hellblast, Impuration and two other ferocious godfucking demons in the early days of 2013. Sarinvomit offers to bring the superior nuclear dominance, extermination of all the religions and the total annihilation of all races of parasitic mankind!
Discography;
* Declaring The Supreme Profanity (cassette, Headsplit Records, 2013) (USA)
* Baphopanzers Of The Demoniacal Brigade (digipak CD, 7 Gates Of Hell
Records, 2015) (Poland)
* Baphopanzers Of The Demoniacal Brigade (cassette, Kampf Records, 2015)
(Poland)
* Split w / Godslaying Hellblast (2017) (cassette, Von Frost Records, 2017)
(USA)
* Split w / Eggs Of Gomorrh (2017) (details to be announced soon)
* Declaring The Supreme Profanity (cassette re-release, Malignant Overthrow
Records, 2017) (France)
* Malignant Thermonuclear Supremacy (Deathrune Records) (2017)
Thu 29 Aug
https://www.littledevil.nl/wp-content/uploads/2019/08/Funeral-Whore-Sarinvomit-TR-2.jpg
625
1200
Jip
https://www.littledevil.nl/wp-content/uploads/2021/05/logoLittleDevil-1210x385.png
Jip
2019-08-02 22:15:15
2019-08-29 23:59:06
Funeral Whore + Sarinvomit (TR)