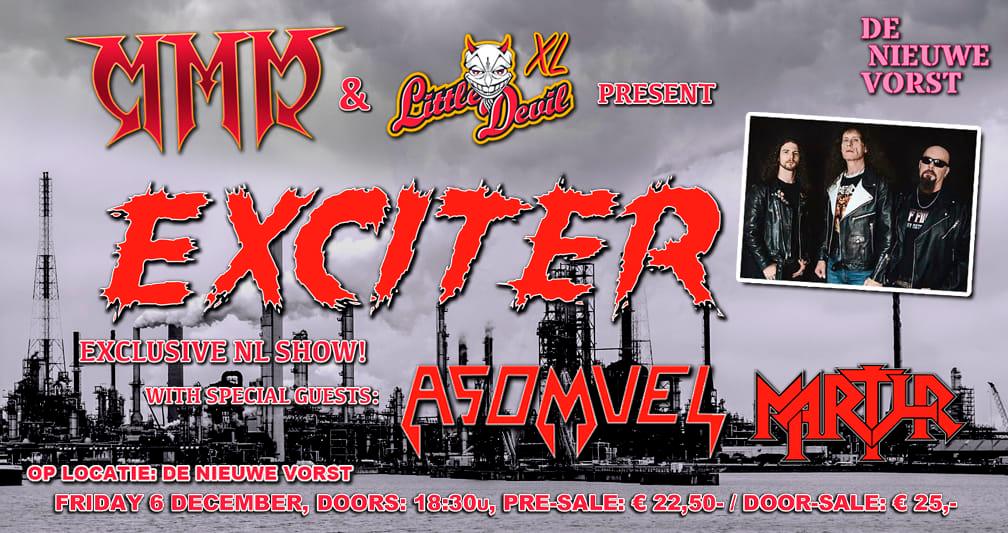 18.45u / heavy metal / presented by MMM / Little Devil XL / vvk €22,50 / door €25

Little Devil XL is back on a wonderful new location, Theater De Nieuwe Vorst, two blocks from the Little Devil venue.
Address: Willem II Straat 49 – 5038 BD – Tilburg
Canada's Exciter was one of the first speed metal bands, bursting out of the gate in 1983 — the year zero for thrash — alongside other upstarts like Slayer and Metallica. But needless to say, their success came nowhere near matching those of their peers, and the band's brush with stardom was a brief one.
Vocalist and drummer Dan Beehler, guitarist John Ricci, and bassist Allan Johnson formed Hell Razor in Ottawa, Canada, in 1978. After changing their name to Exciter in 1980, the band sent their first demos to Shrapnel Records founder Mike Varney, who included the track "World War III" in 1982's U.S. Metal, Vol. 2, then inked them to a one-album deal. Issued in 1983, the band's first effort, Heavy Metal Maniac, was among the first thrash metal albums, and brought them to the attention of Jon Zazula's Megaforce Records (the home of Metallica and Anthrax), which signed Exciter to a three-album deal. After recording 1984's Violence & Force with Anthrax producer Carl Canedy, the band embarked upon its first U.S. tour in support of Mercyful Fate. The following year saw them flying to England to work with Motörhead producer Guy Bidmead on 1985's Long Live the Loud. The apex of their career, the album saw a marked improvement in both songwriting and sound quality and led to extensive touring with Accept in Europe and Motörhead and Megadeth in America.
Just when it seemed like Exciter were starting to make their mark, however, Ricci left the band for a solo career following the release of the three-song Feel the Knife EP. After finding a replacement in guitarist Brian McPhee, the band returned to England and hired Bidmead once again to record 1986's Unveiling the Wicked. Not as popular as its predecessor, the album also revealed an increasing preoccupation with melody, which didn't sit well with the band's hardcore fans. Following another bout of touring in Europe with Motörhead and Manowar, the band returned to America only to discover that its popularity was in swift decline. To make matters worse, Exciter were now without a record deal and Beehler eventually decided that not having a proper frontman was compromising the band's chances of success. So, he relinquished his vocal duties to singer Rob Malnati for their independently released fifth album, 1988's simply titled Exciter. But the strategy backfired, as the album's almost complete abandonment of thrash for a slower, mainstream metal approach alienated what remained of their already dwindling fan base and led to the band's breakup shortly thereafter.
Unexpectedly, Exciter returned to action in 1992 when original members Ricci and Beehler were joined by new bassist David Ledden for the Kill After Kill album. Another flop, this was soon followed by a live effort entitled Better Live Than Dead (with bassist Jeff McDonald) in 1993, after which the bandmembers once again went their separate ways — seemingly for good. But Ricci wasn't quite ready to give up the ghost and resurrected Exciter yet again with a completely new lineup in 1996. Including vocalist Jacques Belanger, bassist Marc Charron, and drummer Rick Charron (no relation), this lineup recorded 1997's The Dark Command and 1999's Blood of Tyrants, behind which they continued to tour sporadically.
A Dream to Some…A Nightmare to Others. These guys calmly walk on, bludgeon your senses with a baseball bat and then retire to the bar, leaving you with what's left of your mind in a pool in your pants. "The best heavy metal has plenty of dirt under its fingernails: this lot must never be allowed to work in a food preparation area." – Dom Lawson, The Guardian. ASOMVEL released their well-respected debut LP, Kamikaze, in 2009. Barely a year later, the band was shaken to its core when front-man, Jay-Jay Winter, was killed in a road accident. Although a devastating tragedy, co-founding guitarist, Lenny, knew that the band had to continue in tribute to the determined spirit of their founder. Since releasing their 2013 album, Knuckle Duster, with Bad Omen Records to much critical acclaim, and recruiting Jay-Jay's Nephew, Ralph, the band has spent the last couple of years playing around the world; including a tour of Brazil, dates in Japan, Slovenia, Germany, Spain, France, Ireland – these dates included many respected festivals such as Hammerfest, Party San Open Air, Siege of Limerick, and MetalDays. ASOMVEL are set to release their third album, World Shaker in May 2019. The band lately toured with Riot V in Europe. This is not an ordinary Motörhead rip off!!! This is a band which has much Lemmy influences but write their own songs in a great way!!!
During the five years that Martyr was alive and kicking (1982-1987), the band released two albums that are considered cult in the Metal scene today. 'For The Un…iverse' (1985) and 'Darkness At Time's Edge' (1986) are classic Metal, a delight for those who love strong melodies, speedy riffs and a high level of technicality. In those years, Martyr appeared on compilation albums from Roadrunner and Metal Blade, was voted Holland's best new Metal band in Aardschok magazine, has toured with several international acts and appeared on Sky Channel's Monsters Of Rock. Martyr disbanded in 1987, but reunited in 2001 to play the Heavy Metal Maniacs festival. Four years later, the band revived almost the complete 1982 line up to play the Headbangers Open Air and Keep It True festivals. The flame has been burning again and the band continued to play live ever since. December 2008 MARTYR supported US Shock Rockers Lizzy Borden on their European tour. But also the years after that MARTYR hit the European stages supporting great acts like Flotsam & Jetsam , Vicious Rumors, Jaguar, Evergrey a.o. on different tours. In 2009 the first new Martyr record in almost 25 years has been released . That's when the new EP 'Fear' was coupled with a re-release of the classic 'For The Universe' album as a double digipack entitled 'Fear The Universe' on Rusty Cage Records (RCR0017).
March 2016 saw the release of MARTYR's new album "You Are Next" released by Into The Limelight Records / Pure Steel Promotions. A great album which got only great reviews worldwide and is released in Japan lately. One of the finest metalbands The Netherlands ever delivered; so check them out! The band alos released a live album last year; recorded during their Japan trip!! Martyr on stage = PARTY!!!!
https://www.littledevil.nl/wp-content/uploads/2019/07/MMM-Little-Devil-XL-EXCITER-Can-ASOMVEL-UK-MARTYR.jpg
533
1008
Jip
https://www.littledevil.nl/wp-content/uploads/2021/05/logoLittleDevil-1210x385.png
Jip
2019-07-24 22:02:40
2019-12-07 00:01:57
MMM & Little Devil XL Present: EXCITER (Canada) + ASOMVEL (UK) + MARTYR