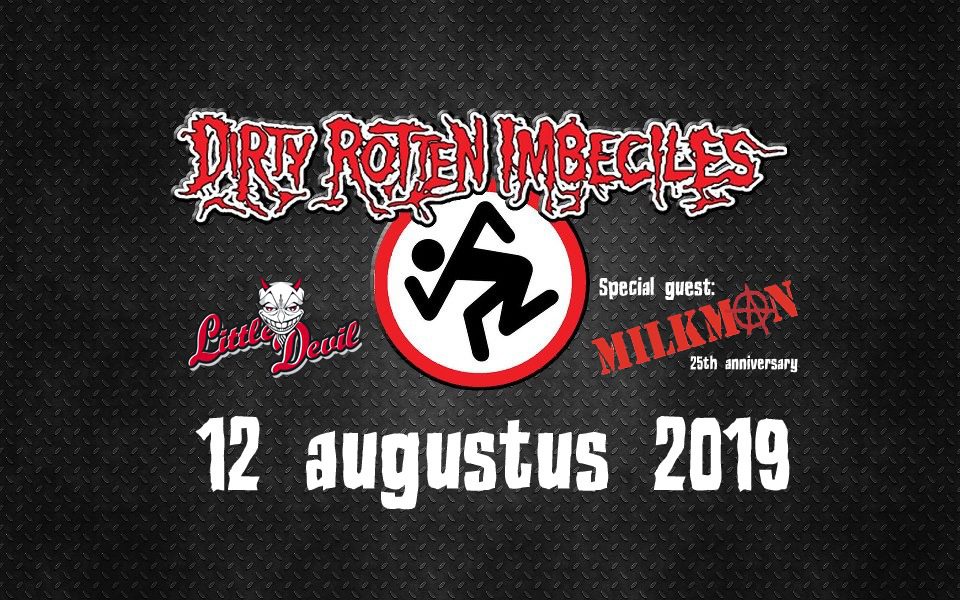 19u / crossover thrash / hardcore / €20 

Ja! Het gaat gebeuren! De show die je wist dat er ooit eens van moest komen… D.R.I. in Little Devil!
De grondleggers van "crossover thrash" gaan de tent op z'n kop zetten. Samen met onze vrienden van Milkman, die ook nog eens hun 25 jarig bestaan zullen vieren tijdens deze show.
The DIRTY ROTTEN IMBECILES' history begins on May 2, 1982 around 4:00pm, in the city of Houston, TX. It was on this day that the musically aggressive quartet we now know as D.R.I. made their first Dirty Rotten noise and called it a song. Back then it was Spike Cassidy (guitar), Kurt Brecht (vocals), Eric Brecht (drums), and Dennis Johnson (bass).
The group started practicing at Kurt and Eric's pa…See More
Description
Dirty Rotten Imbeciles (also known as D.R.I.) are a United States hardcore punk/thrashcore/crossover thrash band that formed in Houston, Texas, in 1982. The band currently comprises founding members, vocalist Kurt Brecht and guitarist Spike Cassidy, as well as drummer Rob Rampy and bassist Harald Oimoen.
D.R.I. never gained a mainstream audience, but the integration of their hardcore punk roots with thrash metal influences was a stylistic catalyst for their contemporaries —most notably Suicidal Tendencies, Corrosion of Conformity, and Stormtroopers of Death— alongside whom they are considered pioneers of what would later be called "crossover thrash." This subgenre was also coined from their 1987 album Crossover.
Mon 12 Aug
https://www.littledevil.nl/wp-content/uploads/2019/05/DRI.jpg
600
960
Jip
https://www.littledevil.nl/wp-content/uploads/2021/05/logoLittleDevil-1210x385.png
Jip
2019-05-27 15:44:14
2019-08-12 23:59:00
DRI (USA), Milkman & Doodskop [uitverkocht]