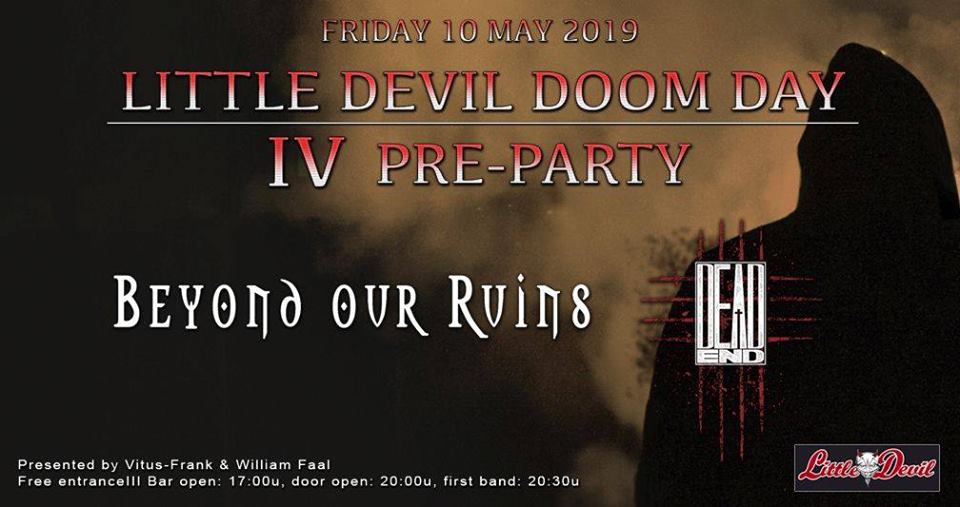 21.30 / doom metal / doom days pre-party / gratis
Free pre-party with two live bands. Doom over Little Devil on friday evening as well !

Our story begins at the end of the 80's, when vocalist / bass player Micha, guitar players Jeroen and Eef and drummer Gunther decide to start a band, not just some band but they wanted to be different from the mainstream death metal bands, And then and there DEAD END was born.
Like every other kid in those days these guys started with some covers from bands like Obituary, Entombed, Hellhammer and Celtic frost… and they soon started to write some own shit, what resulted in the first demo in '91 called Tales from the Real Life..
After that, Micha wanted to focus on the vocals and in Alwin they found a new bandmember on the bass guitar…
Dead End was now complete.
With Alwin some changes came, he was more the doom kind of guy, so influences from bands like Anathema, My Dying Bride, Candlemass and Paradise Lost started to infiltrate the music, what resulted in the second demo "Purity " in '92.
The band did not play often but had some great gigs with bands like Pestilence, Gorefest and Pentacle, It did not pass unnoticed, and at the end of '92 some deal offers came in from record company's like Century Media and Nuclear blast.
The band started to write material for their first full-length……. But they did not get this far, with these deals also came some obligations, the band could not commit to some terms due to school obligations of some band members, and so they decided that it was all or nothing with the original band…. they choose nothing… Dead End died at the end of 1992.
To give the fans a proper farewell, the band released 4 songs they recorded for the album , 3 on a EP called "Wartime in Eden "and one song exclusively on D.S.F.A. compilation cd….. and that was all she wrote…
UNTIL….. in the early 2014 Roel from Vic Records came to us with the request to release all the old songs, remastered on one cd, that was cool, so Januari 2015 the album "FOREVER IS NOT ETERNAL "saw the light, and the responses were overwelming.
At first the guys did not talk about live shows again, but the requests came and Alwin took the lead in the rebirth of DEAD END.
Micha and Eef declined for the restart, so in Jeroen Gijsbers and Bryan Boorsma 2 new members were found. With this formation the first gig in Belgium, on the 15th of August 2015 was done and it was great to be back on stage again.
Guitar player Jeroen van Riet and drummer Gunther Weerepas announced that they wouldn't stick around for the next things ( new album, touring in 2016 ) so in Arjan Jansen en Harald Bouten the newest members were recruited and DEAD END is ready for the rebirth.
At the end of 2015 a vinyl release with the old songs and some never released live songs and a double LP called " TALES OF PURITY AT WARTIME" were released by The Crypt Records U.S.A… that was it for the old dead end..
and now…
~ The new
The new DEAD END is born and with the recordings now done for their brand new album "REBORN FROM THE ANCIENT GRAVE" due to appear in the summer of 2016, released by VIC records and DOC holliday MP they are convinced Dead End will regain their spot in the dutch death metal top!
(BoR) was founded in October 2008. As from October 2012 the band is active in its' current line-up. From this moment on the band has found a steady basis of sound and musical synergy.
Beyond Our Ruins recent release of debut 'A Dreadful Oath' at Doom over Gorinchem introduced the scene to their dark, melodic and modern take on old-time favorites like My Dying Bride, Paradise Lost and more recent gems like Swallow the Sun and Opeth.
Darkened Melodic Doom has come to ruin you all!
Fri 10 May
https://www.littledevil.nl/wp-content/uploads/2019/02/PREDOOM.jpg
507
960
pieter
https://www.littledevil.nl/wp-content/uploads/2021/05/logoLittleDevil-1210x385.png
pieter
2019-02-26 18:10:16
2019-05-11 00:01:26
Pre-Party Little Devil Doom Day IV: Dead End + Beyond Our Ruins