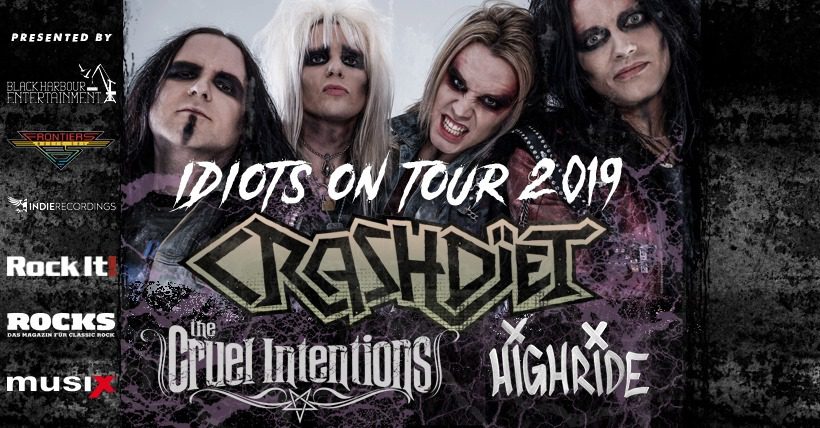 20u / sleaze metal / glam / hardrock / pres. by HB Concerts / uitverkocht


Presented by Little Devil and Headbangers Concerts
www.headbangerszineandgigs.nl
Swedish sleaze kings CRASHDÏET will soon be spreading their dirt in Tilburg with The Cruel Intentions and Highride!
"Go big or go home"
It has been the motivational "catch phrase" for the Swedish boys in CRASHDÏET ever since they started out back in the beginning of 2000. They've clearly gone through turbulence a number of times their career, with deaths, line-up changes and a history of abuse that would make Mötley Crüe's "The Dirt" sound like a children's book. However, the boys have become known for picking up the pieces and returning to the scene, every time they crash.
Their undeniable flirt with the 80s big arena rock bands like Guns N' Roses, Kiss, Skid Row etc., combined with a notable element of punk, has made them a significant name in the revival of the sleaze and glam (or hair metal) genre.
CRASHDÏET released their critically acclaimed debut album "Rest in sleaze" in the fall of 2005 through Universal Music, giving them a spring of success in their home country. But shortly after, in January of 2006, their frontman and founder Dave Lepard, was found dead in his home after committing suicide.
The surviving members have carried on the torch ever since, recruiting new frontmen, touring the world and releasing studio albums for their widespread fans.
In September of 2019 they will release their fifth studio album, followed by a European tour together with their neighbors in Norway: The Cruel Intentions and Swedish punk-sleaze act Highride. October 4th they will be playing at Little Devil!
Former Vains of Jenna singer Lizzy DeVine has hooked up with fellow Swedes Mats Wernerson and Robin Nilsson and Norwegian rock monster Kristian Nygaard Solhaug to form The Cruel Intentions. As you'd expect, they have more swagger than a dozen penguins bloated on krill.
Highride formed in 2006 as a noisy punk rock band in the dirty suburbs of Stockholm, Sweden. Two years of songwriting and sweating in tiny rehersal rooms led to the band's live debut in 2008 and the early years was all about building a fanbase, performing live anywhere they could. With numerous shows behind them (sharing stage with bands such as Hardcore Superstar and Crashdïet) and with a unique blend of punk, sleaze and hard rock – Highride has without a doubt managed to put their name on the international rock 'n' roll map.
Fri 4 Oct
https://www.littledevil.nl/wp-content/uploads/2019/05/crashdiet.jpg
428
820
Jip
https://www.littledevil.nl/wp-content/uploads/2021/05/logoLittleDevil-1210x385.png
Jip
2019-05-06 17:33:03
2019-10-04 23:59:00
Crashdïet + The Cruel Intentions + Highride [uitverkocht]