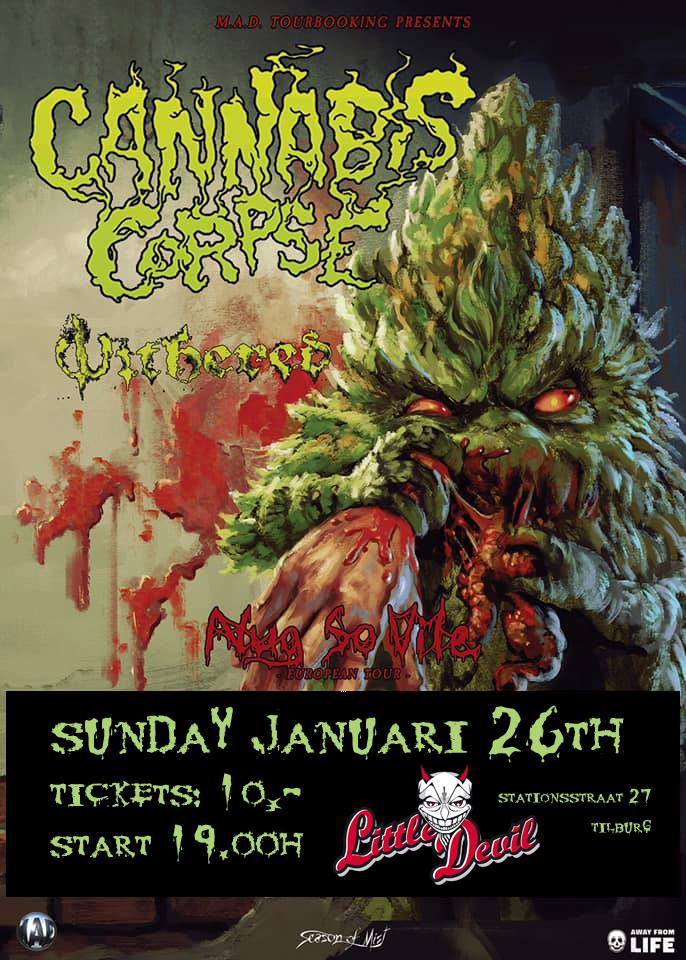 19u / death metal / black metal / doom metal/ €10

Extra last minute show!
CannabisCorpse was founded by Landphil and Hallhammer in the summer of 2006. The band was a heart felt tribute to smoking pot and the most brutal band in the universe CANNIBAL CORPSE! The original demo "Blunted at Birth" was recorded in the kitchen of a shit hole apt. in "Oregon Hill" a small neighborhood in Richmond VA.
WITHERED play tortured blackened doom/death metallers and hail from Atlanta, Ga. established in 2003 to focus on masochistic introspection while traversing many sub-genres of extreme metal. Their 4th studio album, Grief Relic, was released summer of 2016 on Season Of Mist. If you like all extreme metal, go stream it on bandcamp and browse withered gear
https://www.littledevil.nl/wp-content/uploads/2020/01/82148828_1265335826998270_1444907679335055360_n.jpg
960
686
Jip
https://www.littledevil.nl/wp-content/uploads/2021/05/logoLittleDevil-1210x385.png
Jip
2020-01-16 14:07:24
2020-01-26 23:59:49
Cannabis Corpse + Withered