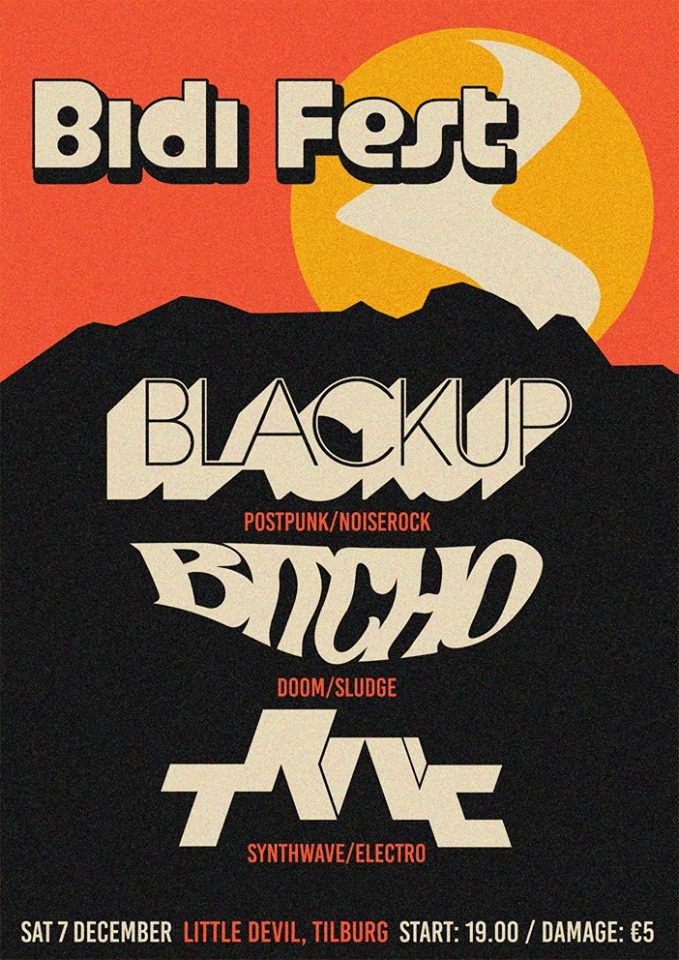 19u / Bidi Fest! / post-punk /sludge /synthwave / €5

De tweede editie van Bidi Fest, met dit keer:
★ BLACKUP (post-punk/garagerock)
★ BITCHO (sludge/drone/doom)
★ THE ROBOTS ARE COMING (synthwave/electro)
Entree: €5
★☆★☆★☆★☆★☆★☆★☆★☆★☆★☆★☆★☆
BITCHO
(NL, sludge/drone/doom)
De avond wordt afgetrapt door de Limburgse stoomwals die luistert naar de naam Bitcho. Uitgerust met dronende analoge synths, de maniakale zang van frontman Lei de Tresjer en maar liefst drie (!) bassisten dropte de band een debuutalbum van een overweldigende 135 minuten, waarvan een van de vijf nummers al goed was voor bijna een uur oorverdovend luisterplezier. Fans van bands als Yob, Sleep of Grief zullen hun hart op kunnen halen bij de vuige, beukende, hypnotiserende grooves van Bitcho. Enkele jaren geleden walsten ze de Little Devil al compleet plat als opener voor IZAH en vanavond komen ze dat nog eens dubbel en dwars overdoen. Wees dus op tijd, deze stoomwals remt voor niemand.
◄listen: bitcho.bandcamp.com
◄like: facebook.com/ohctib
BLACKUP
(BE, post-punk/garage/noiserock)
Wat er na Bitcho nog van het podium over is zal door Blackup volledig met de grond gelijk worden gemaakt. Ontstaan uit de surfrock formatie Fifty Foot Combo maakte de band in rap tempo furore met live shows waar de vonken van af spatten. De explosieve mix van punk, post-punk en garagerock trok al snel de aandacht van niemand minder dan Jon Spencer himself (o.a. The Jon Spencer Blues Explosion, Boss Hog, Pussy Galore) die vervolgens tekende voor de productie van het uitstekende debuutalbum Ease & Delight. Tours volgden met onder andere Hot Snakes, Metz, Rocket From The Crypt en Black Mountain. In oktober komt het langverwachte tweede album Moors Dropped Acid uit. Reden te meer dus om de band in december naar Tilburg te halen om hun nieuwe materiaal in de Little Devil te komen presenteren. In de woorden van de band zelf: We like to party. You too? Join us, at Bidi Fest!
◄listen: blackup.bandcamp.com
◄like: facebook.com/blackupblackup
THE ROBOTS ARE COMING
(NL, synthwave/electro)
Op de smeulende assen van wat ooit een podium was gaan we dansend de nacht in op de klanken van Tilburgs best bewaarde geheim: The Robots Are Coming. Tot de tanden bewapend met hardware drumcomputers en synthesizers beraamt dit duo al geruime tijd hun aanval op de mensheid en vanavond slaan ze eindelijk toe met een genadeloos salvo van pompende electrobeats, ronkende bassen en knetterende synthlijnen. Overgave gegarandeerd. Beware, The Robots Are Coming!
◄listen: soundcloud.com/therobotsarecoming
◄like: facebook.com/therobotsarecomingmusic
Vanaf 23.30 neemt the Devil's own DJ Tim het stokje over voor de gratis afterparty.
https://www.littledevil.nl/wp-content/uploads/2019/09/BIDI-FEST-Blackup-Bitcho-The-_Robots_Are_Coming.jpg
960
679
Jip
https://www.littledevil.nl/wp-content/uploads/2021/05/logoLittleDevil-1210x385.png
Jip
2019-09-20 21:21:38
2019-12-07 23:59:36
BIDI FEST: Blackup + Bitcho + The Robots Are Coming