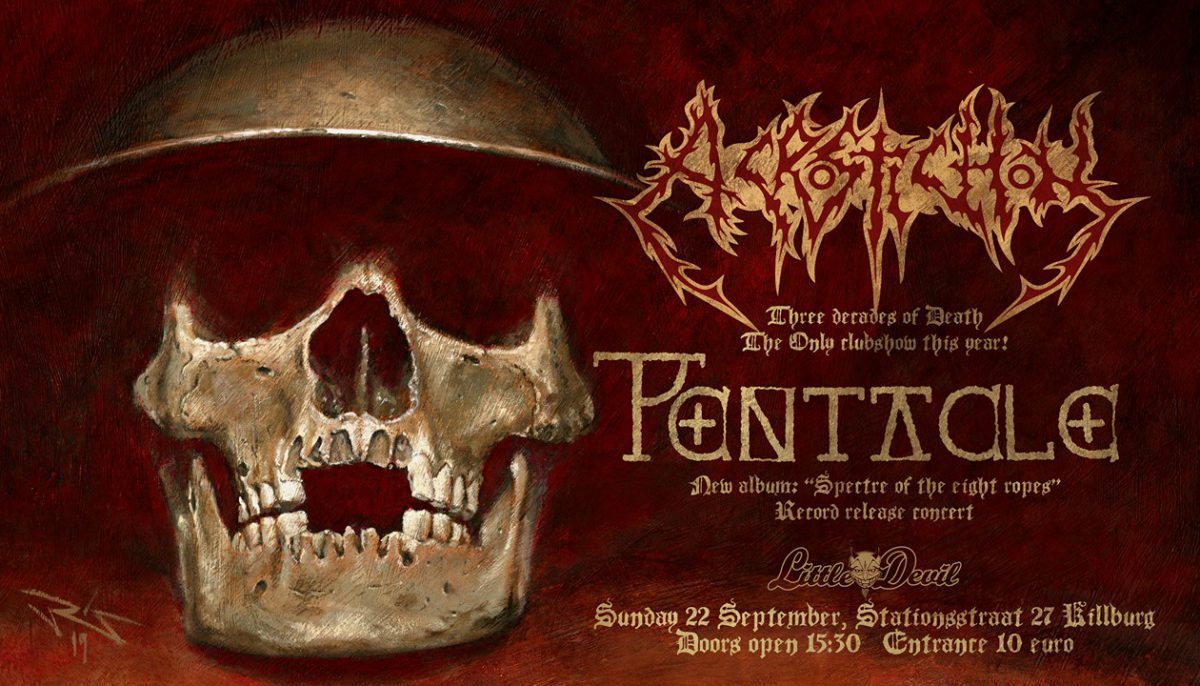 16u / matinee show / death metal / only club show! / € 10,-

Acrostichon : 3 Decades of Death.

30 jaar Acrostichon moet gevierd worden en buiten de festivals zal dit de enige club show worden .
Pentacle : "Spectre of the eight ropes" heet de nieuwe release en ook dat is reden voor een feest .
Twee oldschool deathmetal bands voor de prijs van 1.
Op een zondag middag dus lange afterparty.
Acrostichon from Tilburg, Holland was formed in August 1989 when Jos (guitar), Richard (guitar) and Corinne (vocals) found a rehearsal-room and a drummer (Vincent). In those days Acrostichon played some songs of Richard's old project: United Brains ("Mentally deficient" and "Havoc"), and the first Acrostichon songs were written ("Xenophobic mania", "Immolation of the agnostic", and "elaborate ritual").
In November 1989 Vincent was replaced by Roeland and in this lineup Acrostichon played their first gigs. In March 1990 Acrostichon recorded their "Prologue" demo which contained the songs "Immolation of the agnostic", "Havoc", "Mentally deficient" and "Elaborate ritual". The demo got great reviews. The tape also made it possible to do more and bigger gigs. In June 1990 Serge replaced Roeland resulting in the classic line-up of the first album. A succesful appearance with Carcass, Hellbastard and Gorefest on "Christmas Carnage" followed.
In early 1991 Acrostichon entered RS29 to record the "Dehumanized" demo. This tape contained four new tracks, called "Dehumanized", "Thriving on chaos", Exasperation" and "Lost remembrance". It proved to be the final breakthrough in the Dutch underground scene. More than 1000 copies were sold. Songs of the demo were featured on the "Where is your god now" LP published by D.S.F.A. Promotions and a 7″ was released by Seraphic Decay Records (The "Lost Remembrance" EP). Several labels showed interest in signing the band. "Relics" was recorded to be featured on the "Peaveville Volume 4″ sampler and Acrostichon signed a contract for an album with the French Modern Primitive Records.
In March 1992 Acrostichon recorded their debut album, called "Engraved in Black", with producer Colin Richardson. To great frustration of the band it took the label almost a year to release the album. Finally, in early 1993 "Engraved in black" was available.
Acrostichon played many gigs with great bands like: Carcass, Napalm Death, Morbid Angel, Death, Master, Massacra, Sodom, Revenant, Asphyx, Hellbastard, Lemming project, Atrocity, Cerebral fix, Tiamat, Samael, Gorefest, Thanatos, Dead Head, Sinister, The Gathering, Pungent Stench, and many more.
In 1994 Richard left the band to concentrate on his other band Black Melody (Later to become Robotmonster) and was replaced by Michel on guitar. He still accounted for the artwork. They signed a record deal with Double Noise Records and in January 1995 the CD-EP "Forgotten" was released later on to be followed by the second album "Sentenced".
In 1998 the band broke up and Jos, Serge, Michel and Tjerk (who replaced Corinne in the final line-up), decided to start a new band: Outburst
Years past and after several requests to reunite the band Jos, Corinne, Serge and Richard decided to play for close friend Mario on his "Mario's Metal Mania" festival, on Oct 4th 2009. The reunion gig was great fun and the response was overwelming.
The band had a great time and decided to continue. Although not in full active duty, Acrostichon will play occasional gigs.
Chained within the mythical realms of primeaval black/death metal, so graciously unveiled in the early 80's by hallowed cults such as Venom, Hellhammer, Celtic Frost, Possessed, Messiah, Destruction, Necrovore, Bathory, Treblinka, Slaughter (CAN) and Necrophagia, Pentacle's sepul­chral tribute, to this unforgotten legacy, started back in winter '89/'90 when Mike (guitar), Wannes (bass/vocals) and Marc (drums) joined forces…
Entangled in the growing urge to inspire their own roaring metal quest, Pentacle soon developed a highly ambitious con­spiracy; forging twisting death metal rhythms and haunting doom chords in the archaic traditions of the crafts. 1992 spewed forth Pentacle's first official rehearsaltape, "Caressed by Both Sides"; a primal anthology of pounding horror, which contained 4 of their own compositions as well as the band's gloomy interpretation of Hellhammer's "The Reaper". Shortly after the tape's release, Pentacle gained stage expe­rience supporting bands such as Asphyx and Gorefest.
The heretical spawn crawled on into 1993 with the trinity's one and only studio demo, "Winds of the Fall", which unleashed 5 more charnel hymns to conquer souls enslaved by ancient metal. Their earthly testimony of doom was reflected in prai­sing reviews and encouraging respect from kindred bands. More stages were shared with the likes of Occult, Anathema, Senten­ced, Ancient Rites, Acrostichon, Eternal Solstice and Samael…
1994 witnessed Pentacle descending into the recording dungeons once more, to evoke "A Dance Beyond"; exclusively destined to be included on the DSFA 6/"Paradise of the Underground" compilation CD, for the Dutch based DSFA label.
Pentacle's first vinyldesecration "Exalted Journey", emerged a few mooncycles later; from the Belgian Midian Creations; a 2 track 7″ EP to spread the ceremonial onslaught even further…
In March/April 1996, Pentacle's ranks of the depraved were joined by axewielder Edwin, to create an even heavier and deadlier storm of slashing metalscythes, as the 12 " Picture Disc/ CD, "The Fifth Moon", proves. Selected to be relea­sed by Dis­pleased Records for the CD, and Damnation Distribution for the vinyl­version, it contains 4 new blood wrenching grapes of wrath and, again a recording of Hellhammer's "The Reaper" as a bonus track for the vinylversion.
After the release of this infernal storm of evil Pentacle did in november 1996 an small European tour with Belgian warriors Ancient Rites. Countries as Belgium, France, Germany and Holland fell under this deadly Metalstorm… The reactions on the new product were very supporting. The limited Picture Disc (525 copies) sold as hell and the CD sliced many unexpected throats through pure aggression! Many gigs were done to spread the ancient message.
The year 1997 started with the departure of their second axewielder Edwin as he wasn't able to commit himself to the band anymore. The band continued to spread their mayhem as the everlasting ancient lineup, the threepiece. In the meantime gigs were done with bands as Obituary, Katatonia, Immortal, Cannibal Corpse, Emperor, Hades Almighty, Marduk, Desaster and In The Woods… . Several compilation CD's have been desecrated through Pentacle's contributions.
Indeed, 1998 awaited the new album which has the obscure title "…Rides the Moonstorm". Again, Damnation Records was chosen to unleash their new release which is available on CD and DOLP. For this purpose the band recorded at Harrow Productions, Losser, Holland 9 tracks, of which 8 compositions are of their own and a cover of Chile's own Death Metal Gods Pentagram, called "Spell of the Pentagram". 2000 spawned a true metal coöperation with the German metal Gods Desaster. Both acts have covered a song of the other band and have contributed a new song. Named "Desaster in League with Pentacle" this hellish release was released on the German label Iron Pegasus as a limited 10" picture disc (100 copies) and a regular version (833 copies).
The new millenium has seen the release of a special anniversary release. A MCD / 12" called "Ancient Death" has been released on Damnation Records / Dark Realm Records. Containing 3 new tracks, an old song and 2 Mantas / Death covers ("Witch of Hell" and "Legion of Doom") this deadly piece is a mark in the band's history. At the same time a tribute to one of the ultimate bands, the almighty Possessed, should have been released on the Polish label No Mercy. Pentacle has recorded the "Beyond the Gates" track "The Beasts of the Apocalypse" for this purpose, but used it for a split 7" ("Dunkel Besatthet") with Swedish act Repugnant as No Mercy didn't react on any of the band's inquiries concerning the tribute. In the meanwhile original drummer Marc left the band unfortunally. Marc wasn't willing to do shows anymore. He has been replaced by Robert. This year the band did a small tour with Pulverizer (NL) and Desaster (GER) which attended Holland and Germany. More than 200 gigs have been played by now.
After having done gigs in Italy and Germany, it was decided that the band needed another second Axe-maniac. The search for such an addition was very short. Mike's brother Alex joined the band after a small test period. After he had gotten his baptism of fire in Switzerland, he became a full member of the band. His second gig was as a support for the mighty cult band from Peru, Mortem!
In 2004, the much delayed Possessed tribute ("Seven Gates of Horror") has been released through the Dutch label Karmageddon Records.
At the end of 2004, Pentacle entered Harrow Productions again to record 11 songs. The band recorded 8 tracks for the album on the German label Iron Pegasus Records, called "Under the Black Cross". The CD version of this album is out now. The 3 remaining songs will be used for an EP ("Archaic Undead Fury") on the US label Metal War Productions and a contribution for a tribute to Necrovore LP for the Dutch label From Beyond Productions.
After so many years of active service, the musical concept of the band is still firmly rooted in the golden '80's, though remains far from being a mere copycat of the forefathers of extreme Metal. Don't make the mistake to file Pentacle under the current retro-trend. They started performing their music when only a selected ( and loyal) audience still was interested in this honest style of music. Others sailed the seas of successive trends. Pentacle didn't. Together with an obscure, yet individual lyrical approach, the band always worked hard to create a personal style, based on ancient Metal values. Remember this when listening to Pentacle's releases…
Sun 22 Sep
https://www.littledevil.nl/wp-content/uploads/2019/07/Acrostichon‎Acrostichon-Pentacle.jpg
686
1200
Jip
https://www.littledevil.nl/wp-content/uploads/2021/05/logoLittleDevil-1210x385.png
Jip
2019-07-14 17:22:22
2019-09-23 00:00:26
Acrostichon + Pentacle