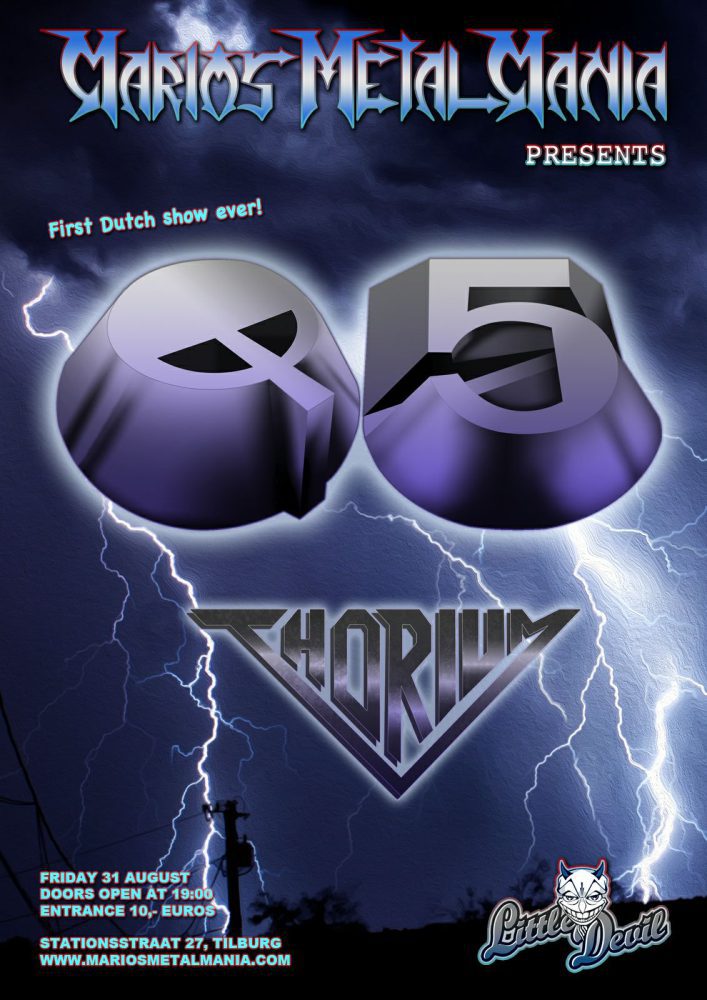 19u / hard rock / heavy metal / presented by MMM / €10,00
Q5
Vocalist Jonathan K. and original guiarist Floyd Rose (inventor of the famous locking guitar tremolo system) had a vision to build the biggest and baddest hard rock / metal band to come out of the Pacific Northwest.
The two recruited former TKO members Evan Sheeley (bass), Gary Thompson (drums) and Rick Pierce (guitar) to form "Q5", which would release one of the most influential cult-classic hard rock / heavy metal albums of the era: "STEEL THE LIGHT" (1984, Music For Nations)
After a series of successful performances throughout Europe and the US, the band was signed to FRONTIERS MUSIC, SRL for its third release, the extraordinary "NEW WORLD ORDER", released worldwide in July of 2016.
The success of this album, along with performances around the globe, and an overwhelming "WELCOME BACK" sentiment from their fans brings the band running full throttle into 2018!
With a new year and a new energy, the band again has a new face in veteran Seattle guitarist James Nelson, (replacing Rick Pierce), and a fresh outlook on their new music as they begin writing their fourth effort, and prepare to prove yet again what Jonathan K and Floyd Rose envisioned all those years ago….
Q5   IS   READY   FOR   THE   WORLD!!!!
Thorium
Working together in Belgium's legendary Heavy Metal band Ostrogoth, axemen Dario Frodo, Stripe and Tom Tee found themselves overwhelmed by inspiration for new material, much of which lay outside the boundaries of what they could realize with Ostrogoth. So they decided to start a brand new band, to channel all these new ideas. Influenced by and incorporating elements of nearly all styles and genres of Metal from the past four decades, such as Power Metal, Progressive Metal, NWOBHM, Speed Metal, Bay Area Thrash and of course classic Heavy Metal, Thorium's members set themselves no boundaries and deliver music that is heavy, melodic, virtuosic, catchy and conceptual.
timetable

19.00
Doors
20:15-21:00
Thorium
21:30-23:00
Q5
21:00-03:00
 DJ: Ad van Osch
Fri 31 Aug
https://www.littledevil.nl/wp-content/uploads/2018/06/34646766_10215788439414401_4071282517301264384_o.jpg
1000
707
admin
https://www.littledevil.nl/wp-content/uploads/2021/05/logoLittleDevil-1210x385.png
admin
2018-06-26 01:12:12
2020-10-28 09:01:40
MMM Presents: Q5 (USA) + THORIUM (B/NL)