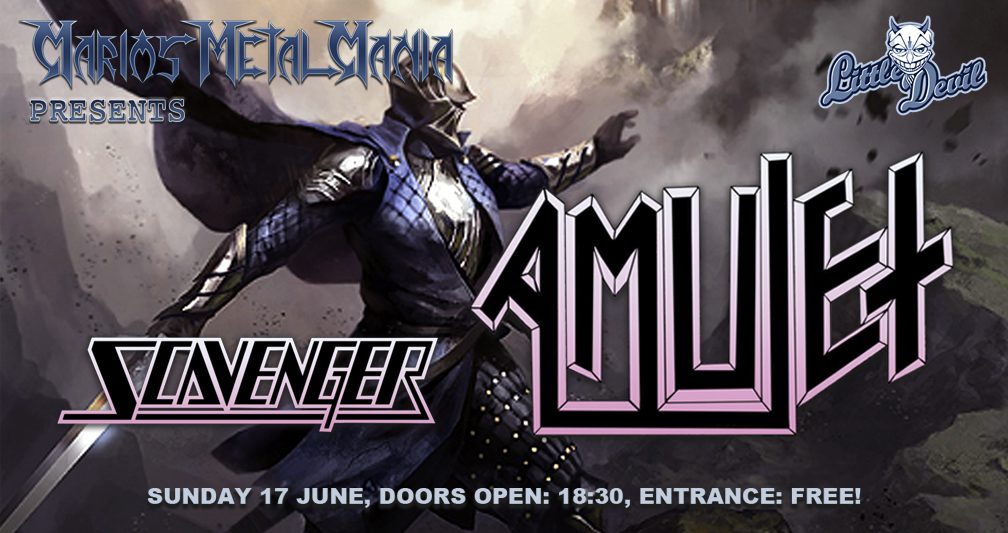 19u / heavy metal / presented by MMM / gratis
Amulet (UK:
AMULET formed in 2010. The group is made up of friends who met at various shows over the years and realized they all wanted to make the same powerful and honest music. Guitarist 'Heathen Steven' and bassist 'Bill Dozer' founded the band and were soon joined by 'Dave Sherwood On Drums', vocalist 'Jamie Elton' and completed with the addition of lead guitarist 'Nippy Blackford'.
The 5 piece is inspired by the golden era of Heavy Metal and Hard Rock but with a focused and slightly doomy riff-heavy sound of their own. You can expect short songs with catchy vocals, heavy riffs, soaring leads and bone shaking bass, driven to the limit with pounding drums. A sound that fits somewhere after 'classic' Black Sabbath but before Metallica's scene defining debut.
The band wrote a new album lately so check them out on the only Dutch date!! This show is a part of the final tour of singer Jamie Elton who leaves the band after these final shows! So please grab the chance the see him live before he leaves!!
For fans of Black Sabbath, Vanderbuyst, Diamond Head, Night Demon, Pentagram, Holocaust, Hawkwind, Coven, Spell, Angel Witch
Scavenger (B)
The Antwerp heavy metal band Scavenger makes its comeback. This Belgian band was ready to conquer the world in the mid-1980s, but due to problems with the record company, little came of it.
Scavenger started as Deep Throat, but a German band claimed the rights to that band name. As Scavenger they released the debut album Battlefields in 1985 via Mausoleum Records. Although they had signed for three albums at Mausoleum, it remained with that one album, because shortly after publishing, Mausoleum stopped his activities. The band continued to perform until 1986, when it fell apart.
In 2017, former drummer Luc Ebinger and guitarist Marc Herremans ran into each other again. Together they decided to revive Scavenger and so they went looking for new fellow band members. The newcomers are bassist Lucas Baeten (who also plays with Skinweaver and Cizin), guitarist Kevin Demesmaeker (also with Skinweaver and Blacklight and Arakna) and singer Tine Callebaut (also with Blacklight). In the new occupation Scavenger brings both old and new material. The try out show got excellent reviews lately!! Check these guys and girl out!
Kijk op YouTube:
https://www.littledevil.nl/wp-content/uploads/2018/05/2018-Amulet-Scavenger-FB-header-v01.jpg
533
1008
admin
https://www.littledevil.nl/wp-content/uploads/2021/05/logoLittleDevil-1210x385.png
admin
2018-05-25 05:52:17
2018-06-17 23:59:00
MMM Presents: AMULET (UK) + SCAVENGER (B)